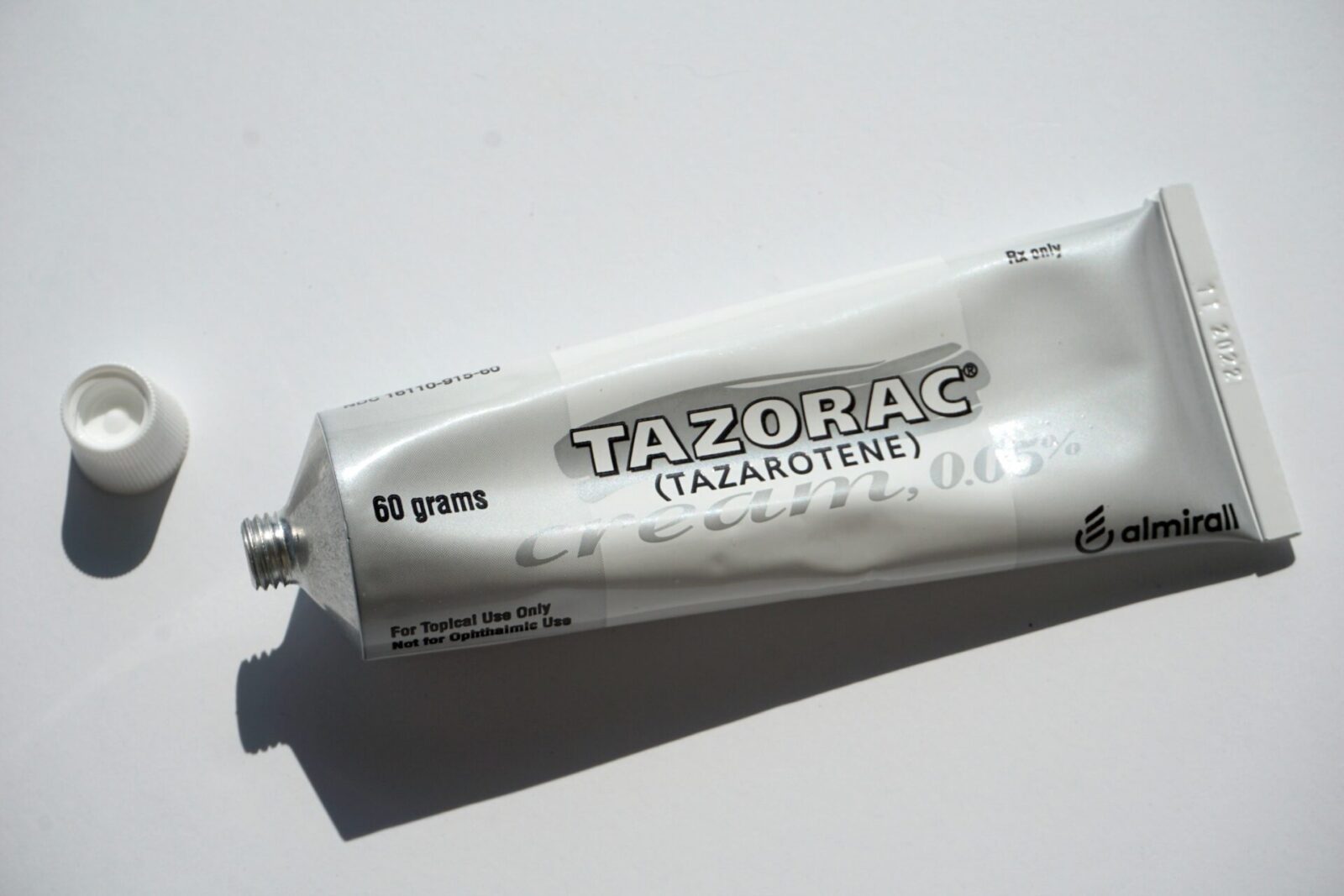 Fourteen years ago, I learned about Tazorac, the magical anti-aging prescription treatment in Jean Godfrey-June's 'Free Gift With Purchase,' and the metal tube has been a constant in my skincare regimen ever since. On and off, but especially over the last decade as the beauty industry has heavily embraced 'natural alternatives' to every Vitamin A derivative. Curious and intrigued, I had to try them all. Hence the 'off' part.
Admittedly, I had tried plenty before. Two popular ingredients most often compared with retinol (neither one actually is) are Rosehip Oil and Bakuchiol. I've never been a fan of the first but I've found wonderful formulas containing the latter: Blüh Alchemy and Graydon. Unlike Rx strength retinoids, they can be used during the day. When it comes to results, none has worked as impressively on my now forty year old skin as Tazorac. P.S. A tele-visit with a derm gets you a prescription without your having to leave the couch.
Toward the end of the summer, I opened a fresh tube and within days was reminded that…
Tazorac is no joke
yes, there can be some dryness and flaking
there is also glow and smoothness to the skin that makes you go oh, ok we're back
to achieve the desired results without the unpleasant side effects, I needed to tweak my routine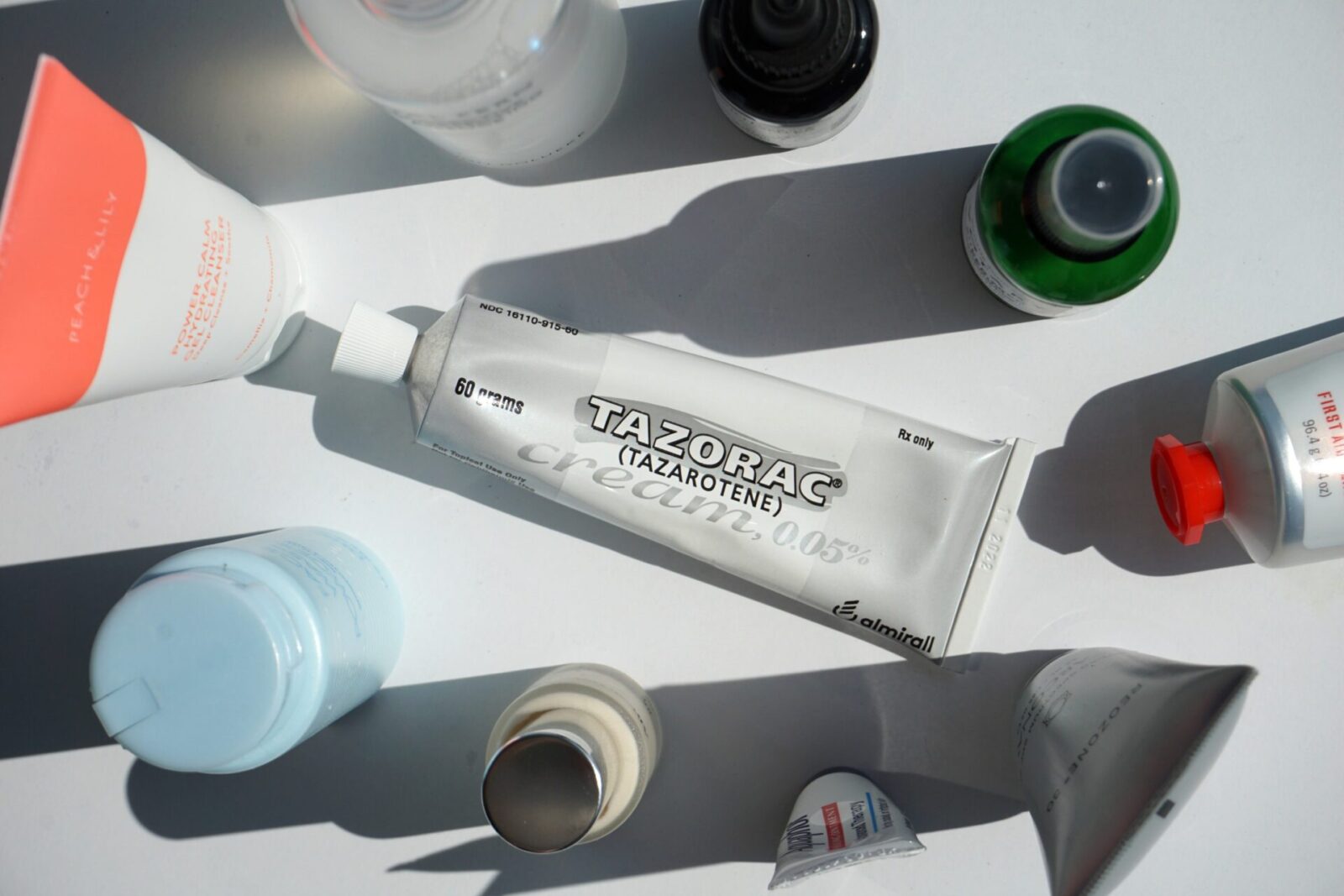 Which Tazorac do I use?
In the early 2000s, my dermatologist sent me home with sample tubes of both gel and cream formulas in the 0.05% strength. The gel was sticky. My night cream did not layer great on top. I was advised to apply Tazorac ten minutes after washing my face, wait until it has absorbed, and to then follow with a night moisturizer. The cream worked brilliantly on my combination skin. Technically prescribed to treat acne, it also stimulates collagen production and promotes cellular turnover so you look more radiant, rested, and dare I say, younger looking. After a couple of years, I moved up to the 0.1% tazarotene concentration but found it too strong and went right back to the lower dose. I continue to be thrilled with the 0.05% cream even today.
Below, all about how I'm making it work. Again.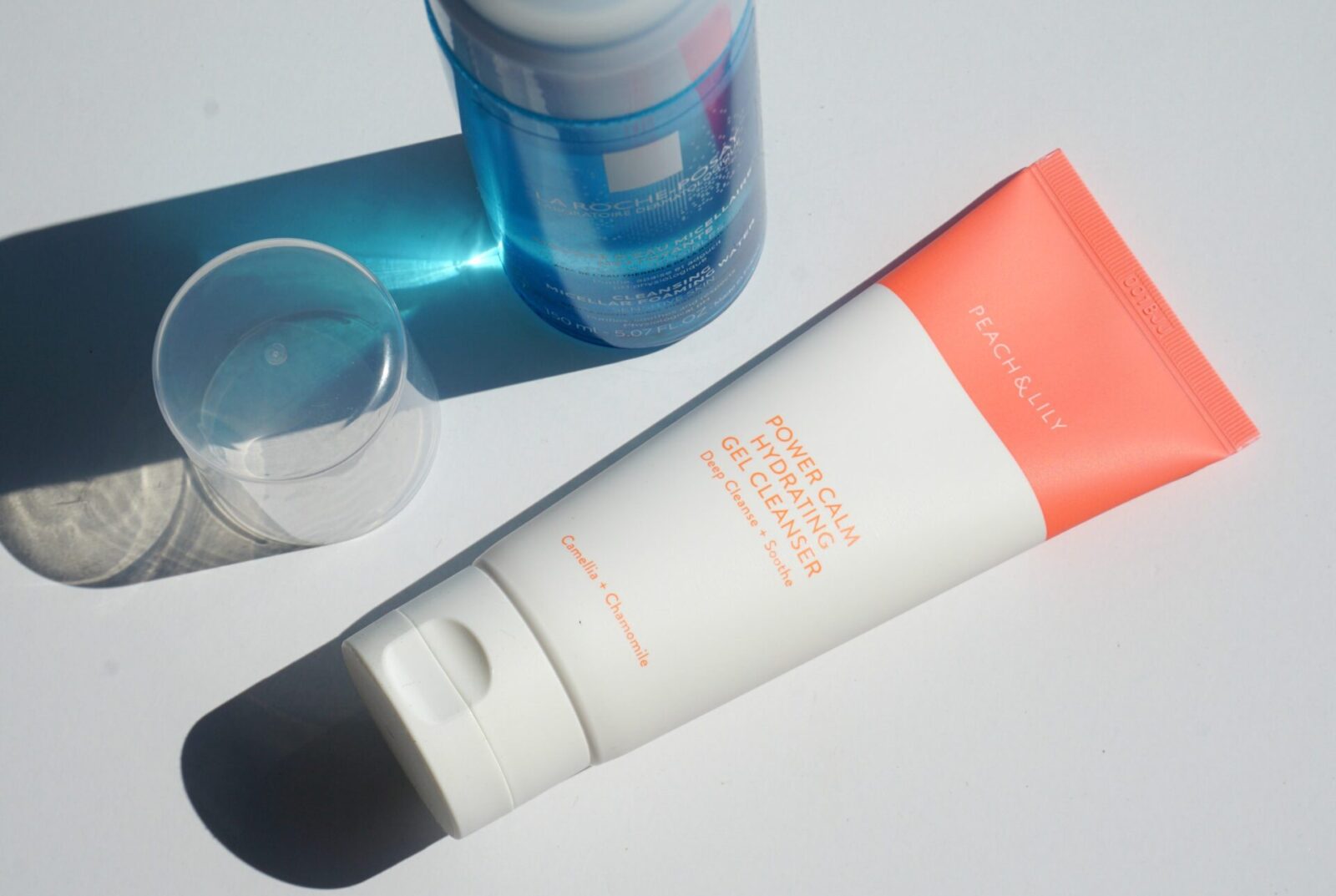 Hydrating Cleanser
Tazorac speeds up the rate at which our skin cells regenerate and is to be worn strictly at night. It's important to rinse off the residual traces of the cream in the morning. Morning cleansing is a great way to energize the skin and to stimulate lymphatic drainage but by removing what is left of the formula, you are preventing the potential risk of added photosensitivity. While on Tazorac, I recommend Peach & Lily Power Calm, LaRoche Posay Micellar Foaming Face Wash, and Kate Somerville DeliKate cleanser. Each makes for a superb AM option and works great as step 2 in a double cleanse.
Gentle Exfoliants (mostly powder)
On mornings after I spot mild flaking, I turn to a powder wash for my cleanser. The gentle enzymatic exfoliation digests the dead cells from the skin's surface and leaves it smooth and flake-free. DHC is among the most affordable options that you can pick up at Ulta. My other favorite comes from Jaxon Lane — you can buy a bottle of Shake and Wake at their chic Amazon store. Typically, I reach for a powder face wash a couple of times a week. On days when I want to buff away the flakes, I grab my tube of Versed Day Maker and concentrate only on the affected areas (mostly forehead and around the nostrils).
Going easy on acid toners
I love love love my acid toners but when using Tazorac, I do less Biologique Recherche P50 1970 and Tarte's Knockout and instead rotate in milder liquid exfoliants. Currently, I'm alternating daily between the Royal Fern Essence (a gentle AHA/PHA blend) and Josh Rosebrook's Daily Acid Toner (mineral-rich and ultra hydrating). Since Tazorac can make your skin more sensitive (or red if you go in too aggressively), potent acid toners can be irritating.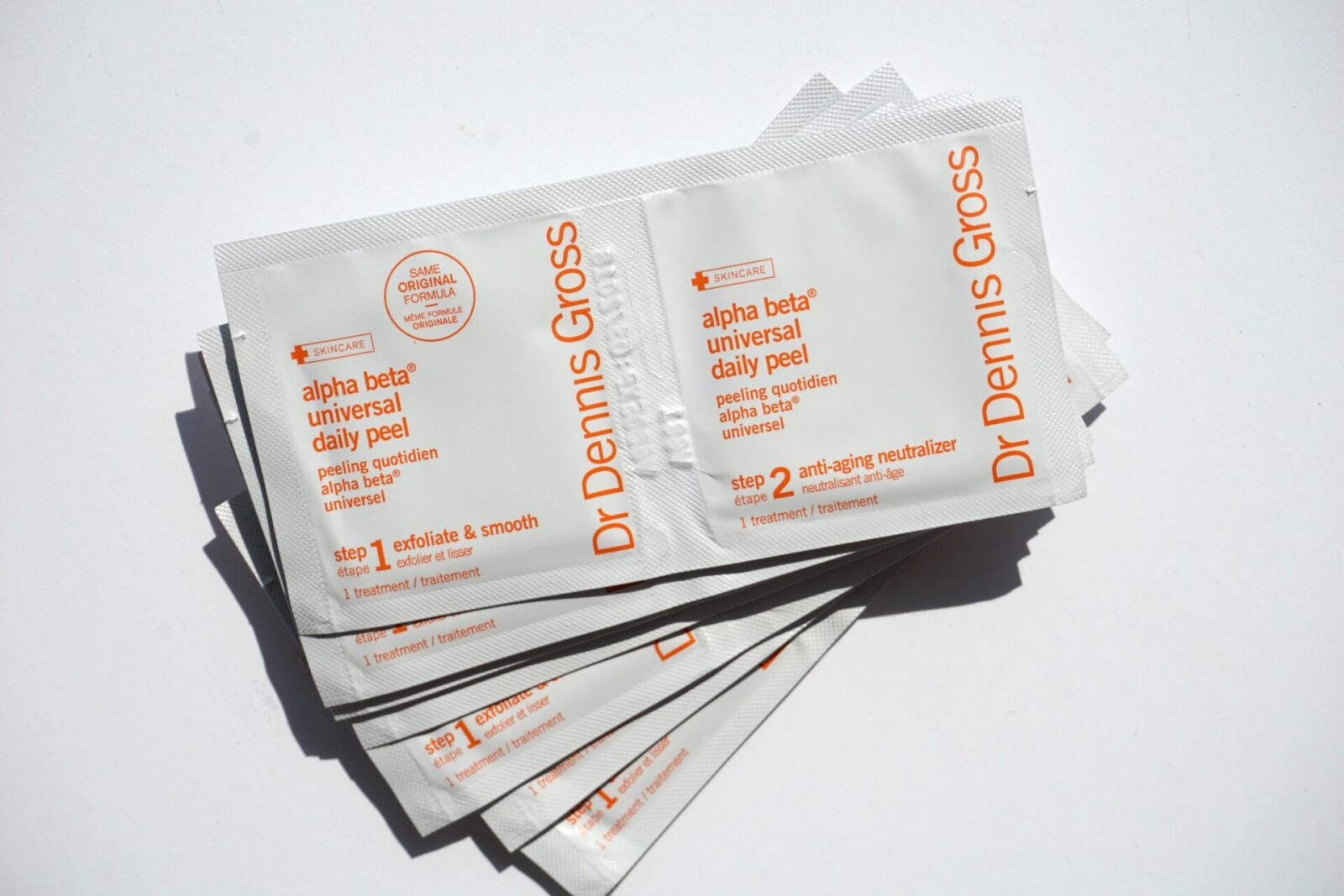 Skipping the Peel Pads
When using Tazorac, I scale back on exfoliating. Right now, I am setting aside my trusted Dr. Dennis Gross Universal Alpha/Beta Peel Pads and carefully switch between powder face washes (enzymatic exfoliation) and acid toners. This way, I avoid triggering any redness or flare ups. 
Serum but make it moisturizing
Whenever I wake up to my skin feeling tight, I know it's time to incorporate a moisturizing serum into my AM line up. And, to possibly skip Tazorac that evening. At the moment, my skin cannot get enough of the Votary Super Seed Serum. It's a silky blend of moisturizing and calming botanicals that absorbs in seconds leaving the skin plump and nourished. Another great option is the Fresh Rose Deep Hydration Oil-Infused Serum that quenches my skin's thirst with its beautiful bi-phase oil and water formula. It's also completely non-greasy upon application and layers great under sunscreen.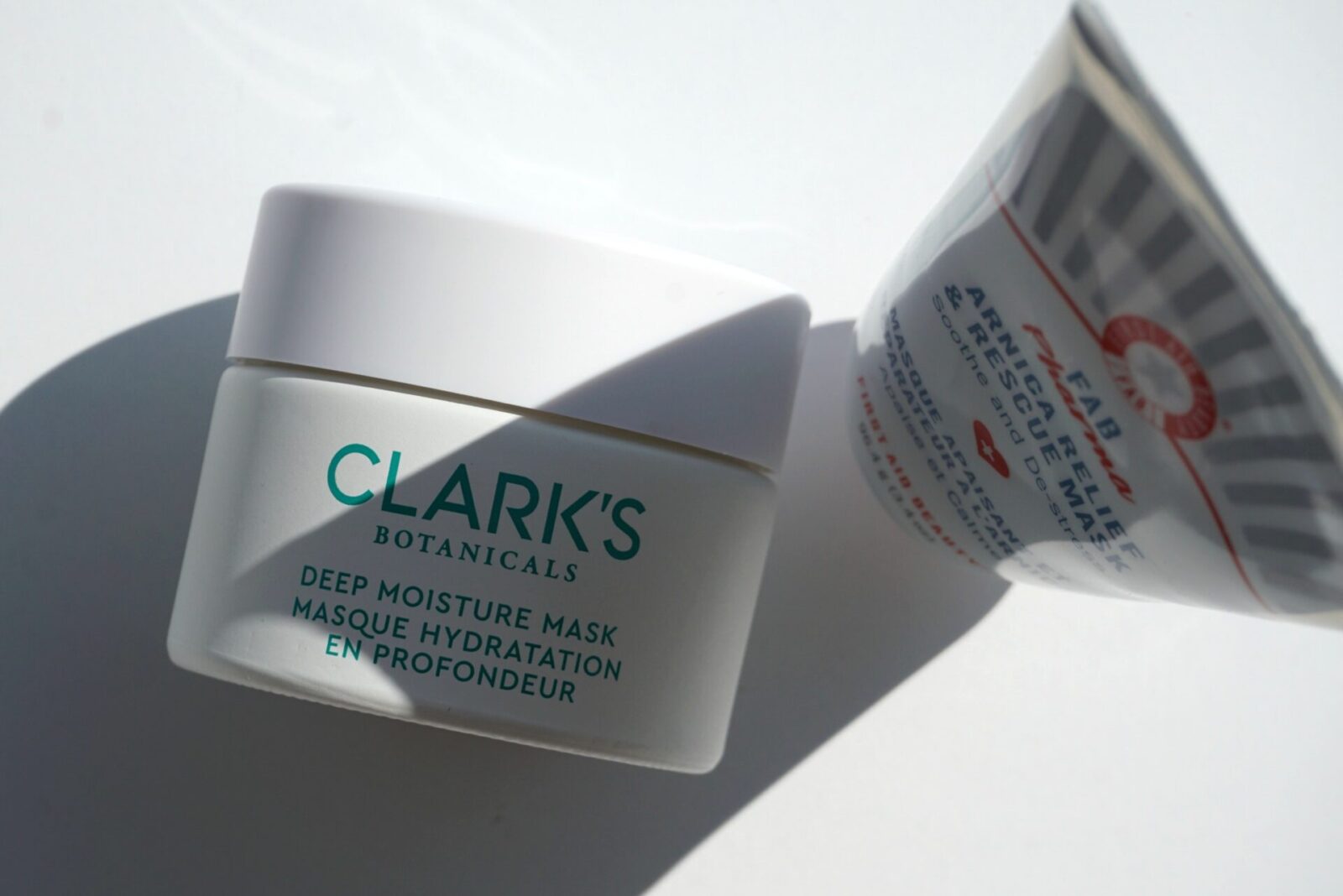 Mask switch
As someone who tends to kick his day off with a hydrogel sheet mask, I now slather on a moisturizer formula during my morning cold brew ritual a couple of times a week. I find a creamy, nourishing mask to be a great complement to my Tazorac habit. In just 15 minutes, my skin feels calm and recharged. Ingredients I tend to look for are Vitamin E, soothing botanical extracts like Arnica or Algae and various antioxidants. My current favorites are Clark's Botanicals Deep Moisture Mask and FAB Pharma Arnica Relief & Rescue Mask.
Level Up With Face Oil
When I first started on Tazorac, I waited for it to absorb and then applied the richest night cream I owned. With the weather quickly becoming colder (the indoor heat is already on), I am stepping up my skincare game with rich, lucious, and ultra nourishing face oils. A few drops patted into the skin deliver nutrients and minimize the chance of potential dryness. Currently, the three formulas my skin is loving are African Botanics Neroli Infused Marula Oil, In Fiore Nourrit Complexe, and the coveted Vintner's Daughter Botanical Serum. Each one also provides much needed aromatherapy at the end of the day. Can 2020 be over already?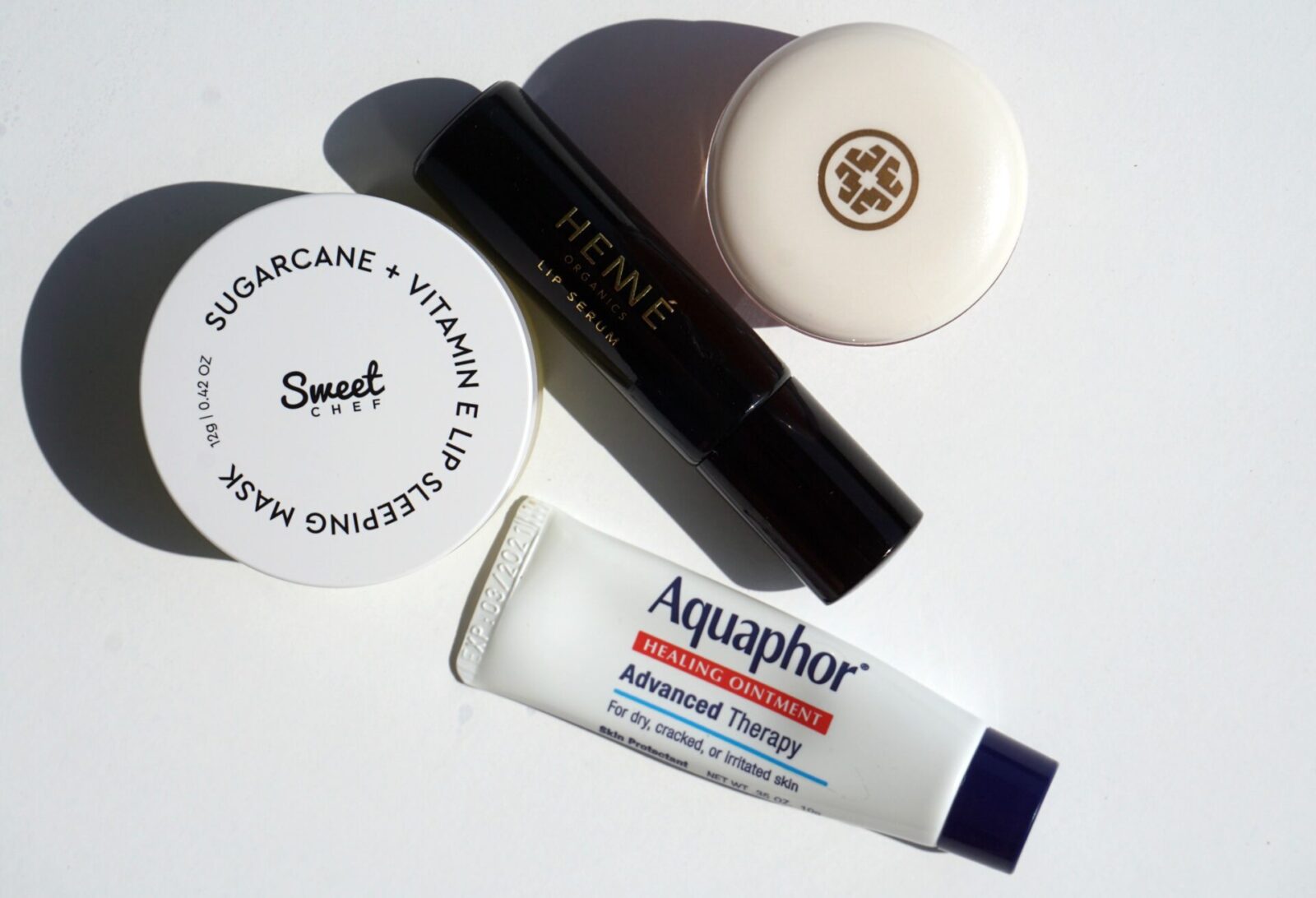 Lip Balm (seriously important)
Every time I'm back on Tazorac, I forget how it dries my lips out overnight (even though I don't get near my lips when I put it on). Hence, there's a new stash of lip butters, oils, sleeping masks, and salves on my side of the bed. Always apply your lip balm with a heavy hand to prevent the stubborn flaking, or worse, uncomfortable and painful cracking that can often occur. P.S. As much as I love various fun and novel lip treatments, a tube of original Aquaphor works like a dream. For those looking for a clean option, try Dr. Rogers Restore.
Eye Cream (Day & Night)
Similar to the lips, the delicate skin around the eyes can often experience dryness when you're using Tazorac. Even when you carefully apply a retinoid —not getting near the area— it's important to keep that fragile skin (which lacks sebaceous glands) nourished and moisturized. Since I use an undereye concealer/brightener almost everyday, any dryness and flaking makes the application a nightmare. To avoid creasing and the pigment not adhering to the skin, never skip the eye cream step. The African Botanics Resurrection Eye Cream is one of my biggest skincare indulgences as it works wonders. If you need something lighter on the budget, try Clinique's All About Eyes Rich.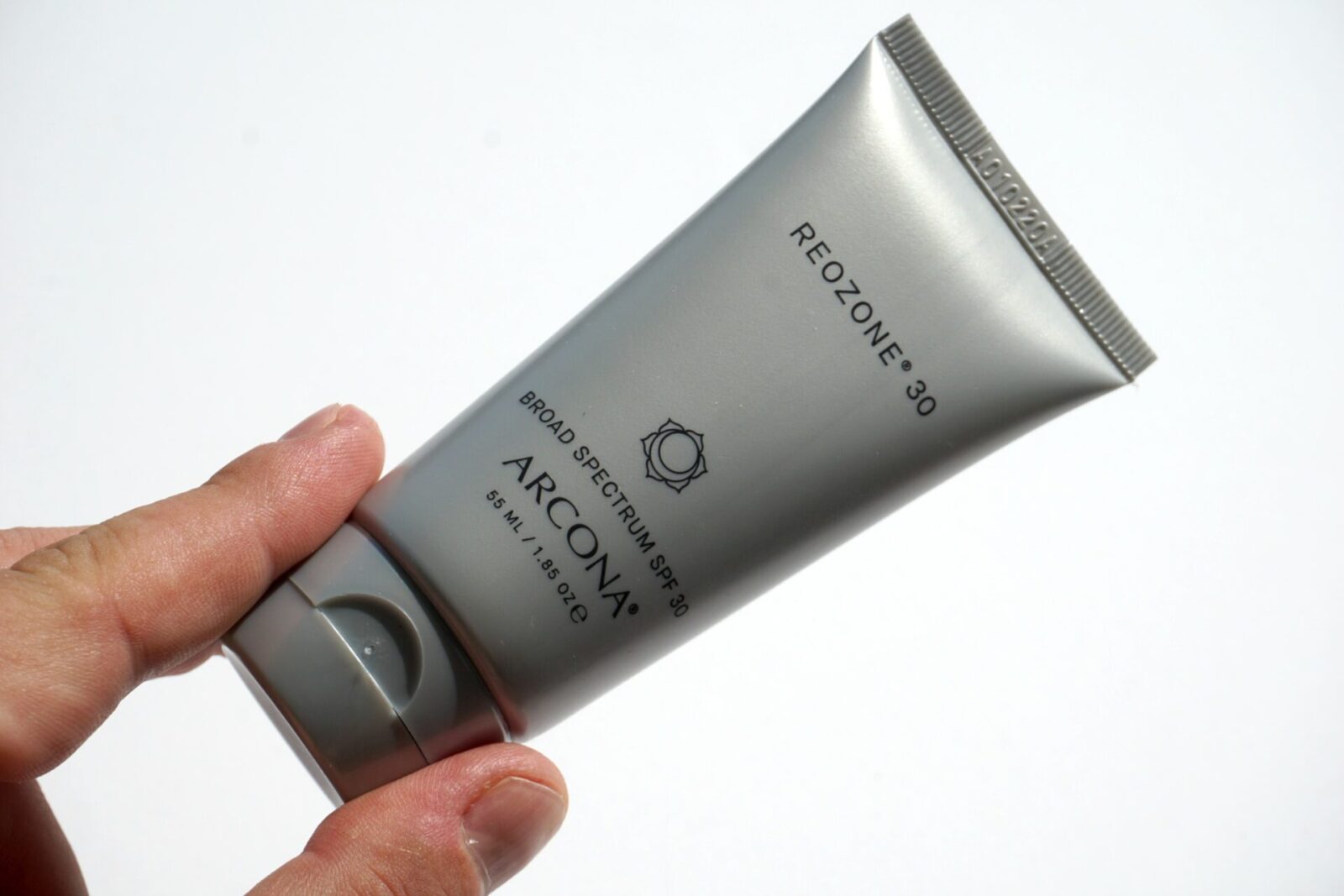 Nourishing Sunscreen
During the summer, my skin does best with oil-free sunscreens (the humidity can be brutal). With the change in seasons and Tazorac doing its thing, my skin has been craving a bit more moisture during the day. Enter ARCONA's Reozone SPF30. The creamy yet lightweight formula provides mineral broad-spectrum protection in a nourishing base of Sunflower Seed Oil infused with Safflower Oleosomes (aka next generation delivery system of time released Vitamin E encapsulation). This multitasker ensures my skin is hydrated, moisturized, and protected all day long. There is nothing more important than wearing sunscreen religiously when you're on Tazorac.
Balance Everything Else
A believer in moving beyond retinoids, I have also had great luck with Niacinamide (enlarged pores) and Vitamin C (overall brightening), especially during my morning skincare routine. Tazorac doesn't require that I give up on either. I continue to use both ingredients in my daytime serums on alternating days. There hasn't been any redness or irritation. Worth mentioning is that my skin isn't the least bit sensitive.
Make sure you speak to a dermatologist to find out if Tazorac is a good option for you. I highly discourage you blindly give it a try by ordering a tube from a random online pharmacy overseas.
The end.