If you haven't yet heard of Beauty Heroes, I'm happy to introduce you to this non-toxic beauty monthly subscription box pioneer that has built its reputation on curating the most sought after self-care treasures. Each delivery (aka Discovery) features at least two products (called The Hero and The Sidekick; often full-size) of the most thoughtfully formulated picks that range from serums through cleansers, balms, body treatments, and CBD-powered finds. The monthly cost varies by the duration of the commitment; I highly recommend the 3 or 6 month subscription, either of which offers phenomenal value. And if you're lucky enough to live in The Bay Area, check out this post about my IRL visit to the beautiful retail space a couple of years ago. Start making your wishlist right now.
Let's talk September box
This month, the discovery features two full-size face masks from Blüh Alchemy, a brand featured in past discoveries and the brainchild behind a few of my favorites – such as the Exfoliating Cleanser and Multi C Serum. Valued at $142, this is one of the best treats for any face mask aficionado. And in my non-expert opinion, there isn't a skin type or age bracket that won't benefit from this power couple.
Vital Moisture Mask (The Hero)
The first thing you'll notice is the vibrant orange hue. Then, the delicious, juicy aroma will absolutely blow your mind. After rinsing off this oh-so-indulging formula after 20 minutes you will feel and notice your skin looking visibly revived and re-hydrated. The star ingredient here is Garnet Plum Extract – a rich in Vitamins A, C, and K botanical that is also known as the 'Queen of Antioxidants'. Absolutely worth noting: Blüh Alchemy employs a cellular extraction process to amplify the potency and efficacy of this bioactive ingredient. This results in deeper penetration and longer hydration.
What to expect? Protection from UV elements, repairing damage from exposure to said elements, and the much needed collagen production support. The addition of Snow Mushroom, Sea Kelp, and Resurrection Plant gives this potent treatment a mega dose of hydration and improved elasticity. Major perks for the soft-drying jelly-like texture which is easily removed with a hot cloth. Blüh Alchemy suggests using the Vital Moisture Mask up to 3-4 times a week.
Superfruit AHA + BHA Resurfacing Mask (The Sidekick)
The sidekick of this month's discovery, this beauty has a stunning seafoam hue and evokes subtle notes of lemongrass and zesty citrus. It's a treat right out of the gate. Good news to those who steer clear of any 'resurfacing' claims in fear of redness, tingling or even worse… burning. The performance of this Blüh Alchemy mask is extremely gentle yet surprisingly potent, resulting in super smooth and glowing skin after a single 5-10 minute application.
The balanced blend of Alpha and Beta Hydroxies includes fruit acids such as Papaya, Pineapple, Finger Lime, and Silky Oil Grass. Lychee Extract, a plant-based AHA with superb antioxidant properties owing to its vitamin and mineral-rich content, is the botanical worth an extra nod. If you're curious about the BHA content, the Resurfacing Mask includes a 1% concentration – and if you think it's low, you're jumping into conclusions. Blüh Alchemy's liposomal delivery system causes the Salicylic Acid molecule to attach itself to a fat liposome and penetrate more deeply into the dermis. This means, the efficacy and in turn, results, are significantly boosted. Recommended usage is 1-2 times a week.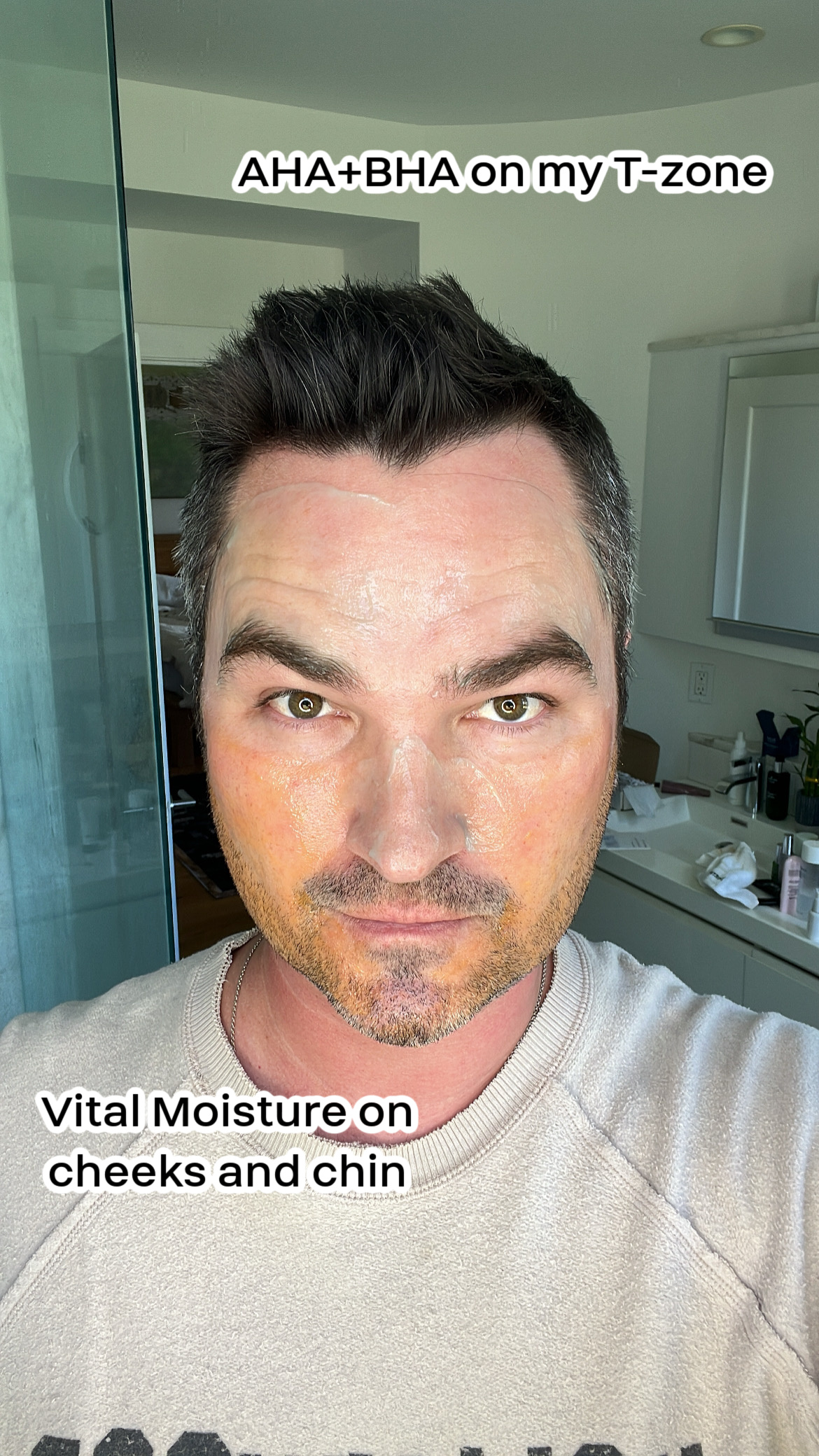 How and When
The new Blüh Alchemy masks make for a great back-to-back treatment with Resurfacing formula being applied first. Upon rinsing, the freshly rejuvenated complexion benefits greatly from a thin layer of Vital Moisture. Since I used these predominantly during August, I found the multi-masking to work great as I spent a fair amount of time in the sun. My method was to apply Vital Moisture to my cheeks, chin, and neck, and AHA + BHA to my forehead and nose. Both formulas rinse off easily but removing them with a hot towel is even easier (and quicker). Scroll to the very bottom for full ingredient lists.
Click here for your Beauty Heroes Discovery.