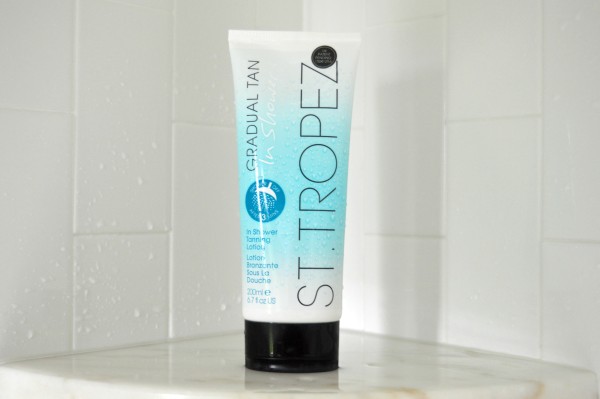 Revolutionary and innovative, the St. Tropez In-Shower Gradual Tan launched at Sephora a few weeks ago and… it sold out in a day. Having scored an invite to a press event the brand threw on a rooftop of a Manhattan hotel, I even took the subway to get uptown on time. While nothing quite beats product presentations over drinks with friendly faces, it was meeting the brand's 'skin finishing expert' supreme-o, Sophie Evans and getting a first hand lowdown on the self-tanning newness that got me above 14th Street. That, and scoring the waitlisted tube to take home and #ShowerAndGlow!
Perfect for anyone shying away from self-tanners in general, the new In-Shower Gradual Tan is subtle, buildable, and beyond easy to use. Fueled by the standard tanning agent, DHA, and infused with skin conditioning Sweet Almond Oil, this rich, creamy and pleasantly scented formula is completely foolproof. Make that convenient, streak free, no stained palms ever and I'm officially out of reasons why you shouldn't try it for yourself.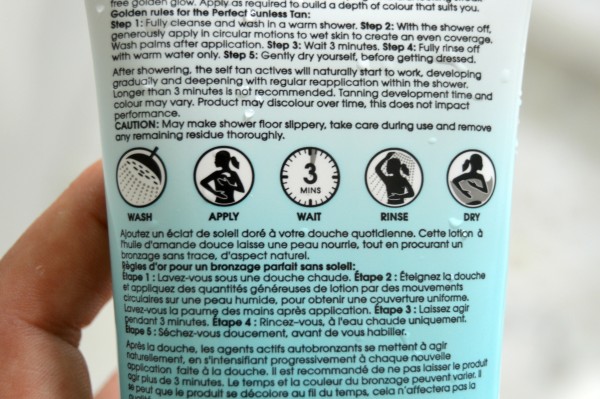 The instructions are simple. Get your ass in the shower and proceed as usual. After you get clean, turn the water off and apply the creamy goodness that is St. Tropez In-Shower Gradual Tan all over the bod. Rinse your hands and wait 3 minutes. Deep condition your hair while you wait or lipsync for your life (I do both) and wash the lotion off with water only. Pat yourself dry and put on some clothes. A self-tanner enthusiast, I showered to glow for three days in a row and noticed a subtle yet distinct hint of color. Two back to back treatments later, my tan had the signature St. Tropez natural look and almost hit the 'medium' note. If you've always been afraid of failing at faux-tanning, you win with this one. Every. Single. Time.
In other news, St. Tropez also revealed their Pro-Light Portable Spray Tan Device. Handy and hardcore, this corded tan gun allows for an at-home application of what used to be an A-list exclusive. Definitely the most economical option, lasting and user friendly, this ingenious solution is worth exploring even if you have no covers to shoot nor red carpets to walk.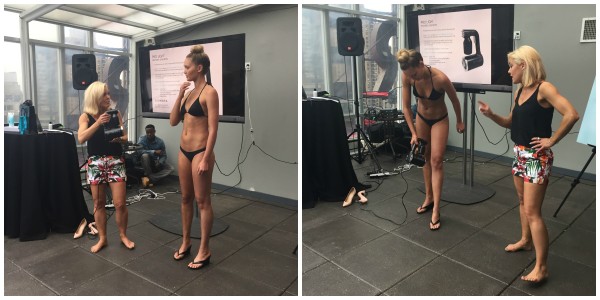 With a click of a trigger, exactly 85% of the product hits your body with ZERO overspray. Hold the gun upright about six inches away from your face and with a single stroke, you'll instantly see the color payoff. If you feel that you have over sprayed an area, pat the spot with a mitt. Sophie Evans did make it look easy during her demonstration of the device on a model. I'm happy to report that after four glasses of wine, I got hold of a unit and did my friend's legs in minutes with genius results. Utilizing the Self-Tan Bronzing Mist formula, each bottle lasts long enough to deliver 6-8 full body tans.
In-Shower Gradual Tan $25 for 6.7 oz – Sephora.com, QVC.com or sttropeztan.com.
St. Tropez Pro Light Portable Spray Tan Device $239 (QVC.com) including 1 x 6.7 oz Self Tan Bronzing Mist, four nose filters, 1-year machine LMW. Measurements: 6-½"L x 10"H, weighs 2 lbs 2 oz.