It had finally started to warm up in Connecticut only to punish us with multiple ice and snow storms after two perfect Spring days. But even less wacky and predictable seasonal changes in temperature beg for tweaks in my skincare regimen. Which is why I am currently welcoming some of my favorite cleansers back in rotation, specifically those I reach for when I shower each morning.
As someone who enjoys a double cleanse or oil/balm step before bedtime, a quick pump or two of a well formulated wash is all that is needed for my AM routine. My overnight treatment often includes a retinoid, so, I am looking to add moisture and hydration back into my skin when I awaken. Think gentle cleanse, possibly mild exfoliation. As importantly, it needs to rinse off easily and not leave any feeling of tightness behind.
About my skin & what it needs:
classic combination (feat. perpetually congested T-zone)
first signs of aging (hello, 38 years old this summer)
constantly dehydrated (in spite of oily T-zone)
no ingredient sensitivities (including fragrance)
always looking to refine the look of pores
help with brightness
Goldfaden MD Detox Clarifying Facial Wash
If you enjoy self-foaming cleansers, this doctor formulated blend is the one to grab to address 'problematic' skin that accompanies the change of seasons. A perfectly balanced fusion of gently resurfacing Lactic and Glycolic Acids is combined with skin loving botanicals such as Gotu Kola and Date Fruit Extract. Added probiotics promote healthy skin flora and prevent future breakouts without dryness. This is hands down my go-to morning face wash, especially after a Peloton class. The citrus aroma is an all natural perk. $38 spacenk.com
Glow Recipe Blueberry Bounce Gentle Cleanser
This juicy gel might be the most hydrating face cleanser in my collection and is packed with every antioxidant rich berry under the sun (Blueberry, Raspberry, Groundcherry, Mulberry, Bilberry, Bearberry) as well as Glycolic and Lactic Acids, super firming Seaweed Extract and ultra hydrating Sodium Hyaluronate. A thirst quenching miracle, this gently foaming K-beauty concoction is a perfect start to the day when your skin needs a boost of hydration. P.S. It smells like the fresh cut fruit bowl from your most recent tropical vacay. $34 sephora.com
CURA Bright & Balanced Facial Cleanser
Low-key chic, the CURA cleanser builds on the success of the brand's Catalyst moisturizer. Its focus: renewing the skin with a patented Calcium Gradient. The all natural ingredient deck also includes Aloe, Algae, and Chamomile Extracts in addition to Papain, an enzyme responsible for revealing smooth and glowing skin. The luxurious gel texture, sleek pump bottle, and fresh scent make for one of my favorite single step cleansing rituals. Bordering on a very satisfying deep clean feeling, it leaves my skin refreshed and ready to embrace a serum treatment du jour. $24 curaskincare.com
It Cosmetics Confidence in a Cleanser
The the iconic brand offers some very impressive skincare formulas in addition to its Bye Bye Under Eye Concealer Pot, which I swear by. My morning go-to is the Confidence in a Cleanser™ Skin-Transforming Hydrating Cleansing Serum and don't get me started on the 'cleansing serum' reference. It's a creamy-gel-to-foam face wash. Serums don't foam and we don't use them to cleanse. Ever. The silky lather never feels drying, leaves my skin clean and dare I say, nourished. Ingredient highlights include Collagen, Hyaluronic Acid, Ceramides and Colloidal Oatmeal. This one is truly remarkable. $28 ulta.com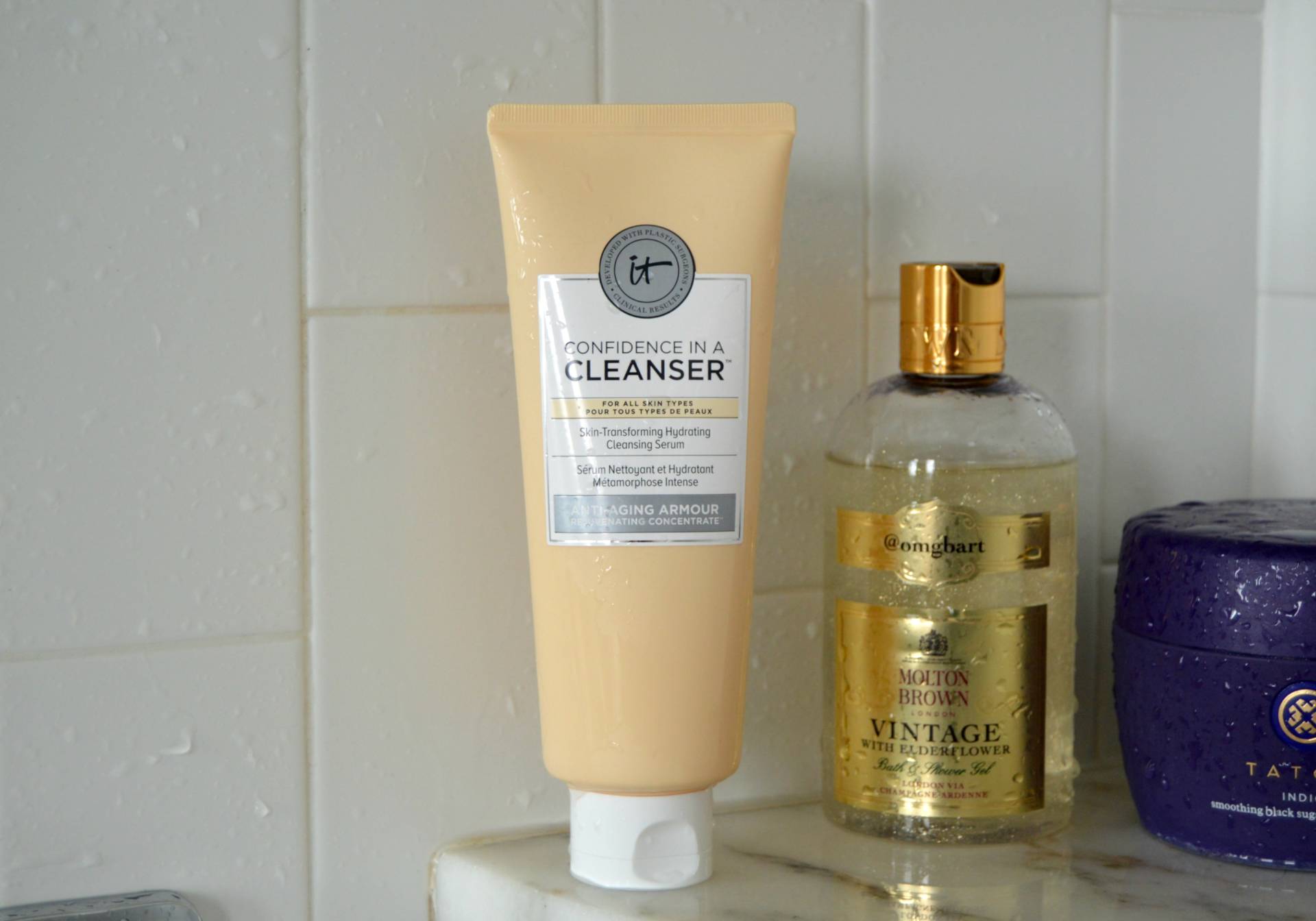 Elemis Superfood Facial Wash
Most mornings, my skin craves this delicious blend of radiance boosting and invigorating botanicals, which is, literally, green juice for your face. Packed with Wheatgrass, Avocado, Carrot, Kale, Broccoli, Pumpkin, and other extracts, this cleanser may seem a little too on-trend for some. Its performance, however, is very on-brand: luxury spa level. My often congested complexion feels clean, soft, and hydrated. Love the juicy aroma and green gel texture. The upright tube packaging with a flip top cap is very much appreciated, especially in the morning when user friendliness is as important as coffee. $25 elemis.com
I prefer a quick and effective 'one and done' approach without compromising the results, hence the products featured in this post. For those of you who practice double-cleansing, all make a great follow up to an oil or balm as a second cleanse.
One final recommendation: try to spend a minute or two on cleansing, especially in the AM. You'll be surprised how a gentle facial massage will result in a fully rested glow.