(Updating this post on February 6th, 2022 with some amazing finds at the bottom of the post)
Fall has arrived. And, with the crisp, cool weather comes the inevitable need to upgrade my shower shelf. Even I, who rarely experience skin related sensitivities (especially on my body), the change in temperature always triggers unwelcome conditions. I'm replacing my favorite summer body washes and bar soaps with gentle formulas that still make me feel fresh and clean without causing itchiness, dryness or suspicious-looking red patches. This year, the updated shower shelfie features a tried and true staple, a new Euro pharmacy discovery, a major Target find, a full on spa-level splurge, and an aromatherapy treat with a texture so unique, I never want to run out. Let's do this.
Goop G.Tox Glacial Marine Clay Body Cleanser
No other non-foaming clay-like body wash excited me before Goop. Ever. I never thought I'd pay thirty bucks for a body wash, but here I am telling you that you should, too. It's a true splurge, so I use it infrequently — as a treat. After getting myself wet, I turn off the water, slather a generous amount of this creamy, slightly runny potion all over my body, massage it in for a couple of minutes, and rinse. My skin feels as if it's a posh body treatment at The Peninsula spa. Even the very subtle dusty clay scent comes across as chic. $30 (200ml) net-a-porter.com
ISDIN Germisdin Soap Free Body Wash
For the past few years, ISDIN has become my go-to for tinted sunscreen, their Melatonik night serum, and the miraculous foot gel oil. This year, I've been thrilled with their Aloe Vera infused body wash (also available in 'original'), a relatively recent Euro pharmacy find. Since the gel consistency is thick, you don't need much to get clean. It lathers nicely, rinses off easily, and is hydrating on the skin. All this in addition to leaving me sparkling clean, obviously. I haven't yet figured out the notes of this body wash. It's definitely not Aloe Vera — its scent resembles the slightly sharp, refreshing, and clean fragrance found in many Euro pharmacy formulas, which I'm never militant about. $20 (500ml) amazon.com
Odele Body Wash
Add this one to the list for your next Target run immediately. The new Odele body wash is available in four targeted formulas (soothing, clarifying, moisturizing, and ultra sensitive), and at 16 ounces, it is truly the gift that keeps on giving. The soothing version (naturally scented with cucumber and aloe) is a must during this time of year when you've turned the heat way up only to need to crack the windows open. The yo-yo-like temperature changes can cause the skin to get dry, which I've successfully avoided having incorporated this one into my self-care routine. $8.99 (16 oz) at target.com
Lifetherapy Body Wash
I first encountered this special brand on Instagram a year or two ago. Since trying out the collection, I can't rave enough about the body wash (which doubles as bubble bath). The distinctive texture of this formula makes for a true standout as the silky gel feels almost slippery yet lathers beautifully and rinses off like a dream. The five creative scents in each product category are based on our moods and while I enjoy burning the candle in 'Inspired', it is all about 'Energized' when it comes to the in-shower experience. Notes of Jasmine, Red Orange, Marsh Grass, and Peach Skin — need I say more? $28 (350ml) at amazon.com
Avène TriXéra Nutri Fluid Cleanser
Formulated to help with dry to very dry sensitive skin, this gentle and effective face and body wash has been a staple at our home for quite some time. There isn't a winter when I don't pick up a bottle. Infused with the brand's exclusive Thermal Spring Water, the mineral-rich compound with soothing and healing benefits, this all over wash moisturizes and helps replenish lipids to strengthen skin's protective barrier. Though listed on the ingredient list, fragrance is virtually undetectable in this ultra gentle cleanser. On mornings when I'm feeling lazy, I'll also use it on my face, especially during the colder months when my skin needs some extra TLC. $28 (400ml) at aveneusa.com
Update Alert: Bioderma Atoderm Body Washes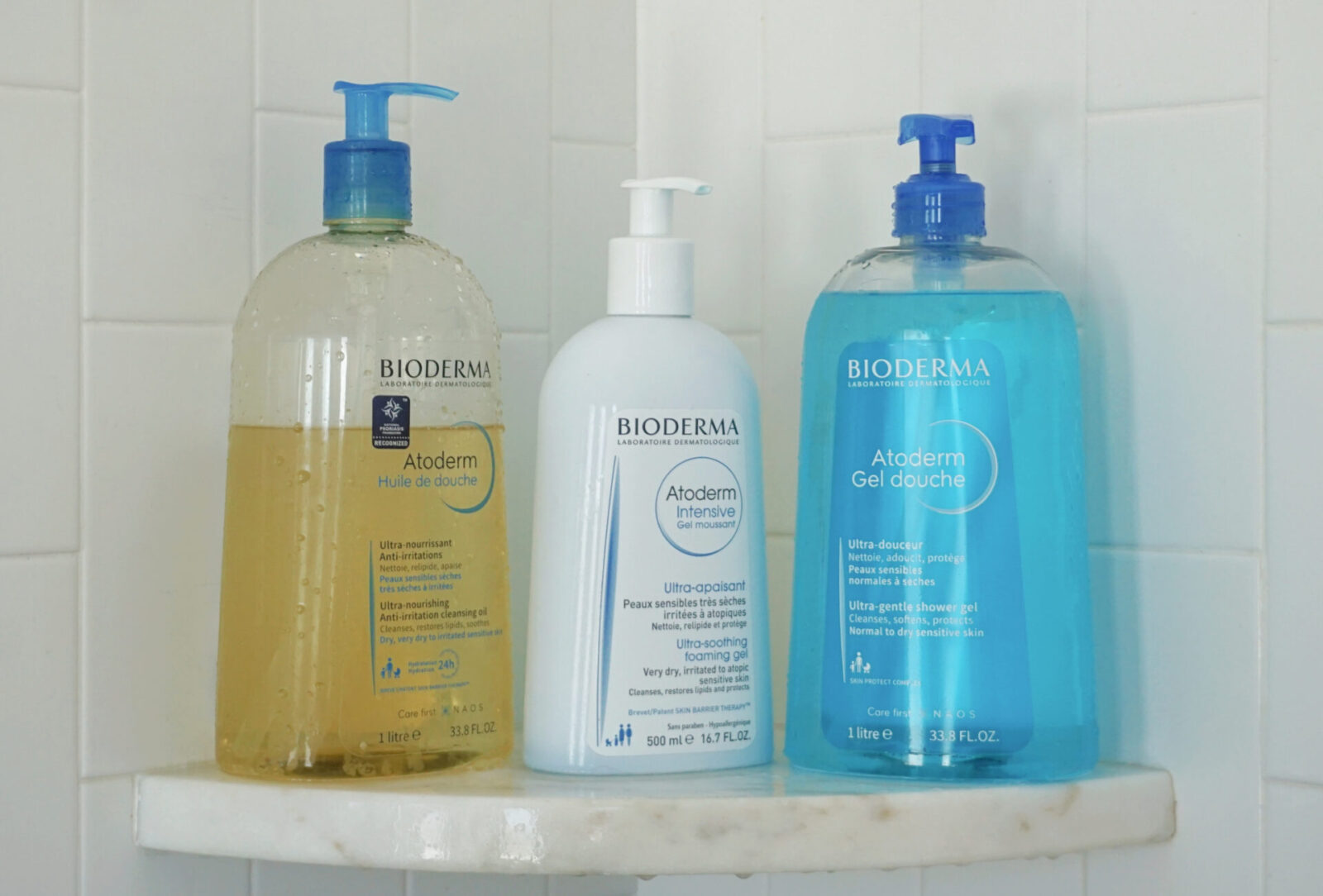 The Bioderma body cleansers have become a recent obsession. If your skin needs a quick, in-shower, soothing cleansing experience, you can't go wrong with any of these. I may be partial to the cleansing oil (pictured on the left) but the just opened bottle of shower gel (on the right) is quickly becoming my most reached for formula. Since it's been brutally cold lately, the. yo-yo temperature effect has resulted in some itchy spots on my body after a hot shower. Since starting my daily Bioderma rotation, I cannot recommend these Euro pharmacy staples enough, especially since the soft lather barely has a scent and leaves the skin feeling ultra clean and comfortably nourished. (The Intensive formula pictured in the middle includes no fragrance per ingredient list). Prices vary, check out the collection at skinstore.com where I stock up using my own code BART25 to save extra 25%.