A few months ago Dr. Jart+ sent out the most adorable mailer to celebrate the launch of the Teatreetment™ Collection. The tight edit of three formulas includes Cleansing Foam, Toner, and Moisturizer. Very no-nonsense. I like that. Sadly, at the time I received the eye-catching trio, the weather was too cold for my combination skin to enjoy these particular products. So when June 1st rolled around, I dusted-off the mailer and adorned the sinkside with the newness. My impressions after a two-week run below.
To clarify (the pun may be intended), I do not have acne and rarely break out. My combination skin however, is easily congested and tends to lean more oily and temperamental during the summer months. Products that highlight Tea Tree Oil as their key ingredient have been on my radar for decades and were a constant part of my routine in my early twenties (I still remember the entire line up from The Body Shop). As I've gotten older, Tea Tree Oil seems to work best for me on hot and humid days when I wash my face more frequently, sweat, and re-apply sunscreen during the day. The crisp and medicinal scent of this plant extract took some getting used to and is now among my favorites. 
What does Tea Tree Oil do exactly?
This potent botanical extract is known for its impressive antiseptic and antimicrobial properties but it also soothes irritated skin and fights inflammation. Dr. Jart+ combines Tea Tree Leaf Extract with Tea Tree Leaf Oil and 4-Terpineol, which is the most active component of Tea Tree Oil and delivers the most efficacious results. If you worry this medley may be a bit strong, Dr. Jart+ hugs this skin purifying magic with a proprietary blend the brand calls the Green Calming Complex — a combination of Green Tea, Aloe Vera, Chamomile Flower, and Marine Pine Bark Extracts. This soothing, antioxidant-rich fusion calms and protects skin types prone to irritation. Let's chat product.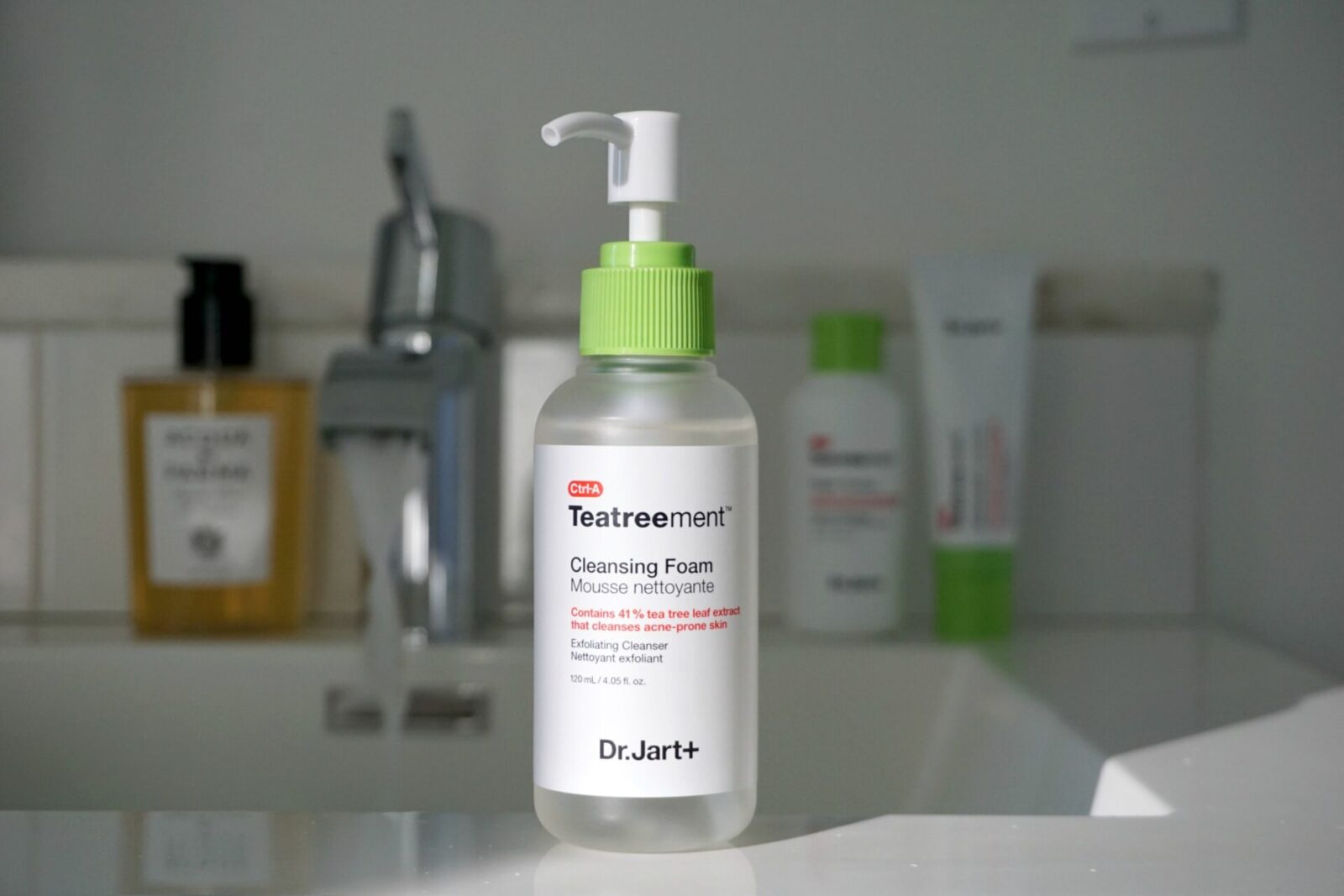 Cleansing Foam
If you're familiar with the super frothy Korean cleansing foams, harness your expectations with this new addition. The Dr. Jart+ Teatreetment™ formula should be labeled a low foaming cleansing gel. Personally, I adore the gel texture and subtle Tea Tree scent. It does a great job removing sunscreen at the end of the day. This summer however, I plan to use it as my morning cleanser since it makes my skin feel particularly refreshed. For those who wear makeup, make this a follow up to an oil or balm in a double cleanse ritual. Since the ingredient deck highlights Salicylic Acid, which my skin appreciates this time of year, I leave it on for a minute before rinsing in an attempt to refine them enlarged pores. This may be my favorite of the three and I have no doubt I will be done with my bottle early July. P.S. If anyone in-house is listening, the Dermaclear Micro Foam BEFORE re-formulating was one of the best things ever. $28 (120ml)
Toner
This is where the plot thickens. If you compare the ingredient deck for the Teatreement™ Toner over at Sephora, you will see Chamomile and Green Tea Extract as the top 2. The primary packaging of the toner (the cardboard box) begins with Water and Niacinamide, with Tea Tree Leaf Extract in the 5th spot. But the front of the box states the product contains 1% of the namesake extract, so what gives? Is the ingredient list in descending order? Not possible. Pending investigation, I've come to believe that this liquid solution is a fast absorbing, non-drying toner that hydrates and soothes the skin. If you stray from traditional acid toners out of fear of triggering sensitivities, this may be a good option for you to explore. $30 (120ml)
Moisturizer
Ok, so I really really really like the Teatreetment™ Moisturizer. It is a bit lighter than my favorite Cicapair Gel Cream and that's actually the reason I may prefer it on hot humid days. Upon application, the consistency hovers over a liquigel serum. The airy moisturizer absorbs in seconds and feels cooling and refreshing on the skin. Love the addition of pore refining Niacinamide and antioxidant-rich botanicals such as Fig Fruit, False Daisy, and Algae Extracts. After trying it both day and night, I prefer to make it part of my morning routine since it layers great under sunscreen. Sadly, I can't speak to its benefits to acne prone skin but as someone who gets blackheads quite easily, I'm guessing the touch of Beta Hydroxy Acids will tackle that frustrating occurrence. $32 (50ml)
FYI
For reference, since Dr. Jart+ caters to a wide range of skincare conundrums, I'll say that my favorite ranges are Cicapair and Ceramidin. I have had less luck with V7 and Peptidin. On a semi-related note, I find Dr. Jart+'s sheet masks to be among the very best.
Available at Sephora.com
Posting ingredient decks from Dr. Jart+'s primary packaging below.