Real talk: I exfoliate like it's my job. In addition to products for the face, I probably reach most often for body scrubs as my morning and evening favorite grooming essentials. It wasn't until Elle Macpherson's interview with The Daily Mail a couple of years ago that the Australian supermodel officially became my spirit animal. 'My three beauty secrets are exfoliation, exfoliation, exfoliation – increasing circulation ridding the body of dead skin cells, nourishing and renewing.' Literally same.
My ultimate indulgence, however, are the luxe formulas that polish my skin into glass-like smoothness with bonus perks of sumptuous aromatherapy. Bordering on a guilty pleasure, in blind test studies, I will always zoom in on a jar north of $50.
How do I justify the splurge?
Personally, with body moisturizers, I'd always rather go the drugstore route and reserve a spa-level indulgence for the in-shower experience. Few of us need to use a scrub everyday, so any investment will gain longevity. For those of you who self-tan, using a great scrub beforehand is crucial. More often than not, you really do get what you pay for.
Current situation: shedding my winter skin. Helping me with the summer prep, the glow revealing masterpieces I am obsessed with right now are from African Botanics, TATCHA, and Kat Burki. All natural, completely non-toxic, and free of any synthetic additives, each one is worth its weight in gold.
African Botanics – Muti Mud Mineral Body Scrub
Pure bliss in a jar. This paste-like clay blend of African Muti Mud (loaded with countless nutrients and minerals), Marula Oil (the best oil in the history of ever), Green Rooibos Tea Extract, and Baobab and Avocado Oils is infused with Cacao and Peppermint Leaf, which give off the crisp and invigorating aroma of a chocolate mint thin…of the organic superfood variety because this South African import is as clean as it is posh.
African Botanics actually offers two body scrubs within their eco-luxe range and while I absolutely love both (fans of grittier textures will fall for the Detoxifying Salt and Sugar one), the Muti Mud is my favorite because of its multi-tasking talents. It doubles as a body mud treatment beautifully. I ration what I love (growing up in Poland will do that to you) and apply it mainly to my dry shoulders, chest, and elbows. Leave it on for twenty minutes, rinse off, apply some Marula Firming Body Oil, and enjoy brand new skin for days. $65 (200ml) nordstrom.com, africanbotanics.com
TATCHA Indigo Smoothing Black Sugar Body Gommage
Winning the packaging game, TATCHA out-delivers itself with this all around stunner. Not your average scrub, this gommage is housed in a stately jar, while the inner lid holds a gorgeous spoon for user friendly, elegant, application. Read: the mundane task of exfoliation is now an opulent and addicting ritual. Part of the smoothing range, this gem is fueled by Japanese Indigo, which is used to restore and soothe the skin. Aromatherapy details: delicate notes of sugar and citrus.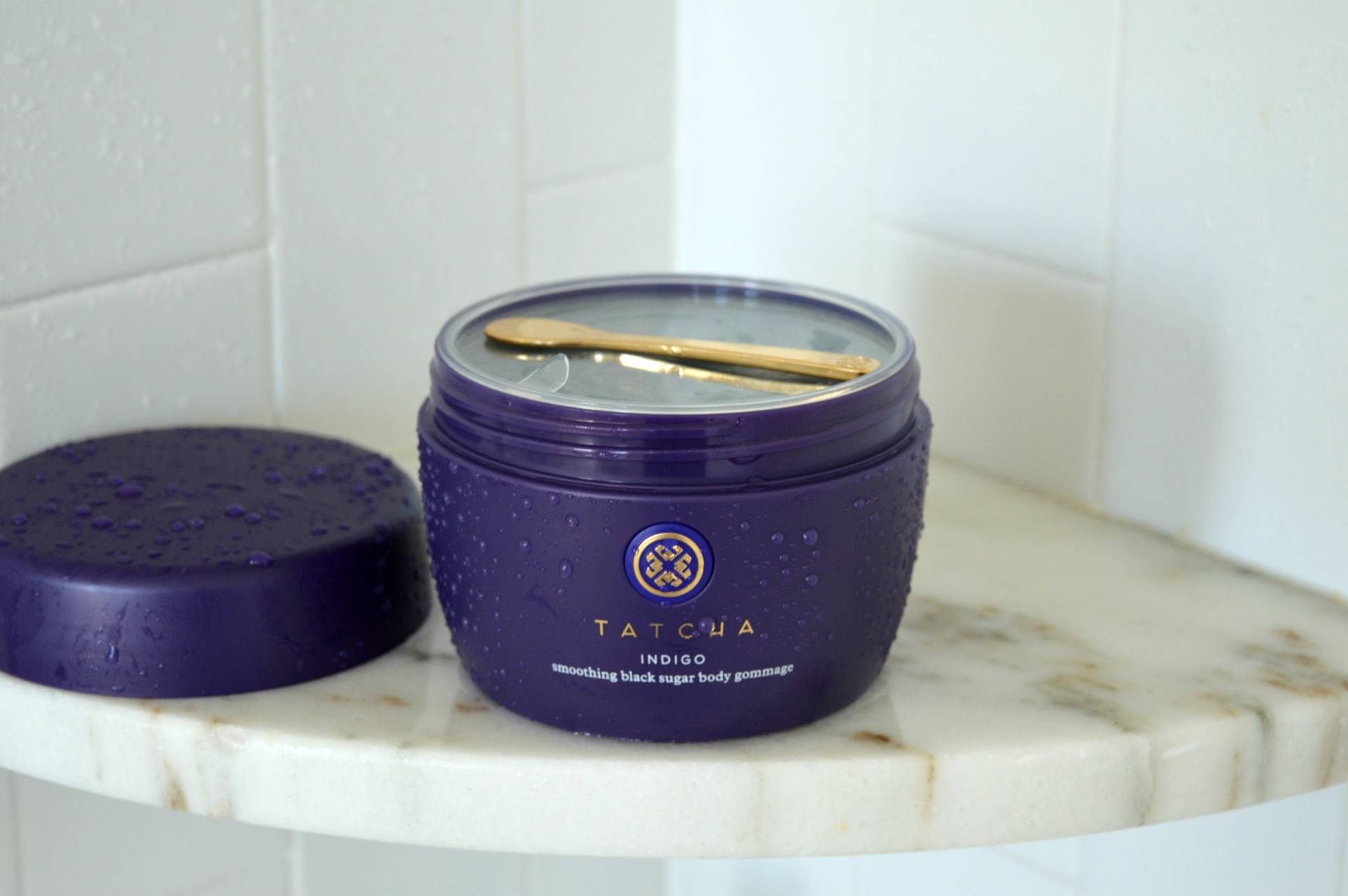 What makes it extra special? The Okinawa Black Sugar, a prized health ingredient around the world. Combined with Camellia Oil, a proprietary blend of Rice Bran, Green Tea Leaf and Algae Extracts, it focuses on anti-aging treatment properties. It foams up gently and rinses off without a trace, leaving the skin hydrated, ultra soft, and delicately scented. Perfect for anyone with sensitivities, this one is pretty flawless. $74 (275ml) tatcha.com, violetgrey.com, barneys.com
Kat Burki Raw Sugar Body Scrub
Beyond decadent, my skin can't get enough of the lush Kat Burki face care. Extending the deluxe vibes below the neck, the seemingly basic formula is actually everything but. Fans of a sugar layer submerged in a blend of oils need look no further. This mother of oil based body buffs has no competition. Known for mastering the art of simplicity, Kat Burki delivers another tight and impressive ingredient deck.
What's in it? Sugar, Glycerin, and a medley of Sunflower, Coconut, Kukui Nut, and Macadamia Oils with Vitamin E, Sulfur, a touch of Silica, and only natural fragrance. That's all. Speaking of fragrance, if you've used Kat Burki before, the common thread across every remarkable concoction is the truly unique succulent scent that I wish I could bottle. Apply it to damp or dry skin, massage it in in circular motions, inhale deep, rinse off, and admire the instant glow and lasting moisture. Feel free to skip your body moisturizer after using this one. $58 (150g) katburki.com where it appears to be sold out at the moment
*press samples