Current situation: greetings from a cramped exit row seat en route to Phoenix, AZ. The second the plane levels at 35,000 feet, I'm ordering a double vodka on ice, and then planning to lose myself in a playlist full of dance remixes and a tight edit of in-flight complexion perfectors. And water. Lots of water. P.S. I'm the worst flier.
Cleanse
By no means an answer to proper cleansing on the daily, wipes are a great choice when inflight. Avoid the rough textured semi-dry options but don't give up: this category has evolved tremendously in the last few years. The new Patchology Clean AF On-The-Go Refreshing Cleansing Facial Wipes are absolutely fantastic. Soft, non-tearing, and saturated to perfection, they remove excess oil, dirt, and grime without leaving behind sketchy cottony lint deposits. Your skin will be comfortably hydrated. Available in a 4-pack of 15 per, they're also immensely affordable. $20 nordstrom.com
Tone
Traveling with a traditional toner is not something I'd ever consider, so I'm never without my ARCONA Triad Pads 2 Go. Individually packaged, the single use gems hydrate, revive, and brighten dull skin like nothing else. Infused with plant extracts, antioxidants, and vitamins, the refreshing cocktail is my top pick for home and away. Gentle and effective, these absolutely addicting toner pads are pretty genius. $10 (10ct) nordstrom.com
Mist Yoself
Fact: the oxygen situation on board is questionable at best. The recycled plane air sucks all the moisture out of your skin, too. For this reason, I mist myself with the AMOREPACIFIC Moisture Bound Skin Energy. Imagine Glycerin, Niacinamide, Bamboo Tree Sap, Cactus, Green Tea, and Sacred Lotus Extracts in a gorgeous, super fine mist that smells so good, you almost forget about your middle seat reality. Phenomenal. $35 (80ml) amorepacific.com
Eye Cream
The 100% Pure Coffee Bean Caffeine Eye Cream has been a constant in my travel skincare arsenal for years. Maybe even a decade. Packed with anti-inflammatory plant extracts (Coffee Bean, Aloe Vera, Rose Hydrosol, Green Tea) as well as Vitamins C and E, it is also completely vegan and natural. Since the generous (and unheard of for an eye cream) tube is a whopping 30ml, I always apply a thin layer over my entire face during air travel. Credit Beyoncé's makeup artist for that recommendation. $26 (1 oz.) dermstore.com
Mask
I opt for invisible gel formulas rather than joining those who prefer to get sheet-faced on the plane (unless I'm all bougie in business). Recently, I tried the Summer Fridays Jet Lag Mask as a 10 minute corpse reviver treatment close to landing. The creamy formula boasts Chestnut Seed Extract, Shea Butter, Ceramides, Sodium Hyaluronate and feels rich (almost occlusive) upon application. Slightly white at first, the Jet Lag fixer soaks in beautifully with inconspicuous finish. I knew I would like it but ended up absolutely loving it. My skin definitely exhibited that business class glow. $48 (2.25 oz.) sephora.com
Body Treat
If I had only worn sweatpants on this flight! How great would it be to lock myself in the bathroom and apply the the African Botanics Revitalizing Therapy Gel to my legs! Dropping trou in confined spaces is not my speed so I settled for my arms and the back of my neck. Instantly cooling, the Aloe based gel sinks into the skin immediately, promotes circulation, prevents swelling, and soothes achy or sprained muscles. The zingy eucalyptus aroma does not linger. The heavenly sensation does. $65 (60ml) revolve.com
Lip Balm
Possibly the most reached for item during any flight, my Sol de Janeiro Brazilian Kiss keeps the lips nourished and dewy, but never glossy. It also happens to taste delicious. Loaded with Cupuaçu Butter, Aça, and Coconut Oil, the exotic medley prevents any chance of chapping, cracking, or dryness. The wide swivel stick applicator delivers all the magic with a single swipe. $18 sephora.com
Hand Cream
I try to avoid touching anything on a plane, but I do type, swipe my iPhone to death, or flip through the pages of a book or magazine for hours. So, I need a moisturizing hand cream that isn't greasy. I'm obsessed with the new philosophy hands of hope, which is available in an impressive range of lightly fragrant options. The lotion-like texture absorbs in seconds and leaves my hands soft and lightly scented. Green Tea & Avocado and Sparkling Grapefruit for the win. $10 (30ml) ulta.com
Supplement
It goes without saying that it is next to impossible to find sources of nutrition at airport restaurants or in mysteriously pre-wrapped plane food. Add the coughing, sneezing, and poor air circulation in the cabin and one's chances of getting sick may double. The Perricone MD Travel Booster contains Vitamin C, Zinc, an antioxidant fusion of Lychee Fruit and Green Tea Leaf Extracts, and an Organic Mushroom Blend. When taken the day before flying and in-flight, it supports a healthy immune system and helps fight inflammation. I'm into it. $25 (10 capsules) sephora.com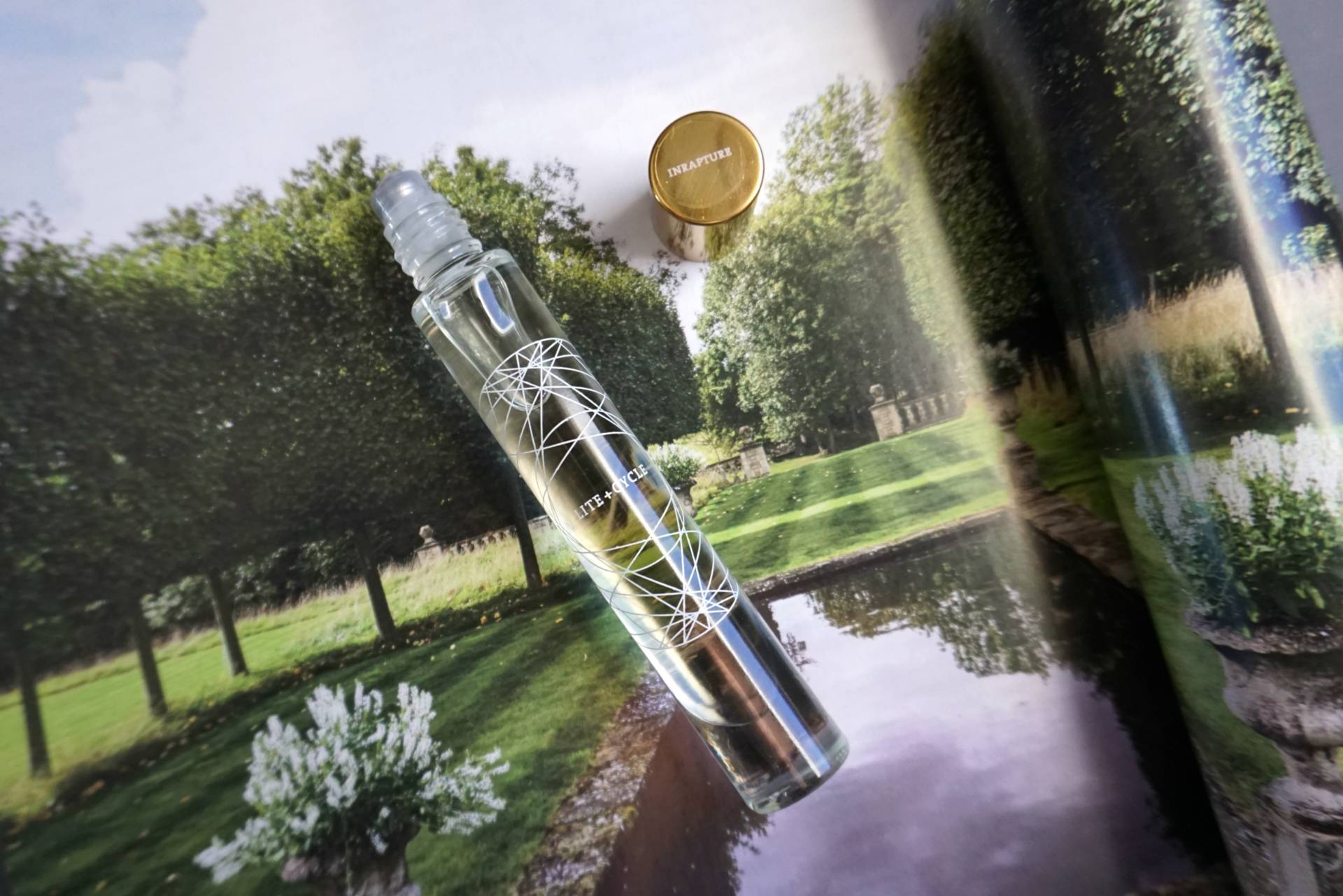 Fragrance
Spritzing on a fragrance on-flight, no matter how subtle, is just wrong. Don't do it, but do read on to learn about my go to alternative. During a visit to International Orange last Fall, I picked up a gorgeous roll-on from Lit + Cycle, which I use whenever I fly. InRapture is a stunning blend of Italian Bergamot, Petitgrain, Orange Essence, and Ruby Red Grapefruit that uses 100% natural globally and responsibly sourced plant oils. The scent provides genuine uplifting aromatherapy benefits—a couple of dabs on pulse points create a distinct, completely non-intrusive aura. Major win for the roller ball applicator that won't become loose from cabin pressure (so many do!). $42 (8ml) litandcycleshop.com
What are your carry-on essentials? Do tell as I'm always on the hunt for new discoveries.