Seems like only yesterday that our choices in acid toners were limited to Pixi Glow Tonic and Biologique Recherche P50. Talk about a narrow window and an astronomical price difference. Luckily, the now ever popular product category has blessed us with countless options. With the recent launch of Purifying and Exfoliating Phytoactive Solution, Chantecaille has expanded their already exquisite skincare collection, which is great news for anyone focused on achieving that even-toned, brighter, glowy (yet not shiny) complexion. Spoiler alert: this newness is absolutely worth experiencing. 
What? How? When?
The latest from Chantecaille is your post-cleanse and pre-serum liquid step. If you use an essence (that is purely hydrating and not an acid toner), I'd begin with the Solution. My logic is always to resurface before you hydrate. Sure, there are those who will apply an essence prior to an acid toner to amplify the toner's performance, but, for me, that just hasn't worked. This is strictly a preference based on my own experience. If you decide to reach for this Purifying Solution in the AM, be sure to layer on broad-spectrum sunscreen as your final step since leave-on acid treatments can make your skin more susceptible to sunburn. Unlike hydrating essences, which I splash onto my skin, I apply the Chantecaille acid toner with a cotton round. 
While Chantecaille claims the new Purifying Solution is suitable for all skin types, the frequency of use will depend on your own skin type (i.e. up to twice a day for oily, once a day for normal, every other day for dry). I've experienced mild redness upon application the first few times I incorporated it into my routine. That didn't last more than a few minutes. For anyone worried about a tingling sensation, I felt none. In other good news, the formula seems to be unscented. For reference, my skin is truly combination, easily congested, and only sensitive or prone to redness during changes in the seasons.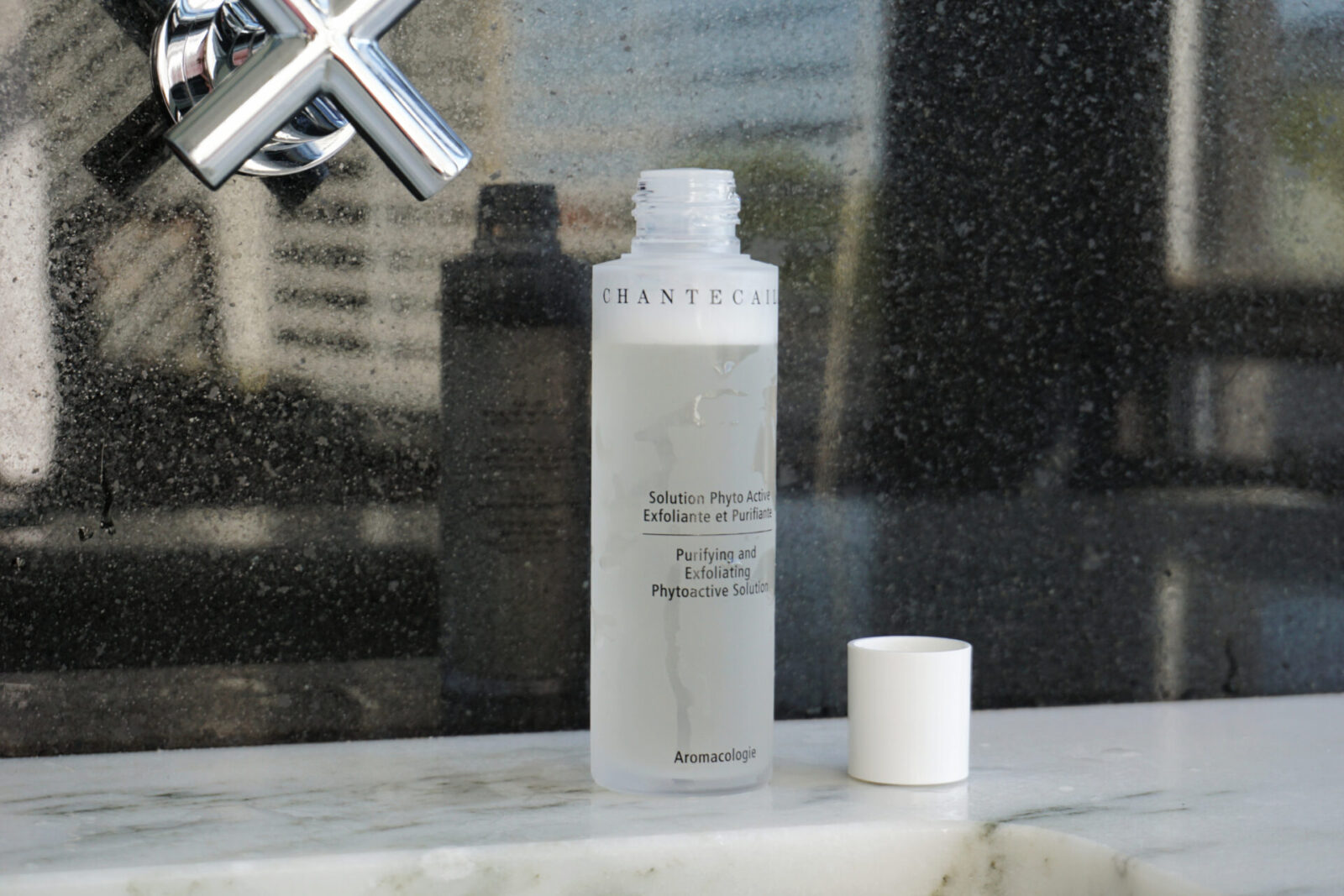 What's in it?
Some of my favorite INCI acronyms are the stars of the Purifying and Exfoliating Phytoactive Solution: AHA, BHA, and PHA. The Alpha Hydroxies take up 10% of the formula, 8% of which is the concentration of Glycolic Acid (the other two are Lactic and Phytic Acids). Willow Bark Extract is the Beta Hydroxy source, which helps purify any clogged pores for a smoother, more refined appearance. Polyhydroxy Acid (Glucono Delta Lactone) provides gentle exfoliation and keeps the skin hydrated. The newness is also infused with a handful of marine botanicals that help control sebum production and keep oilier complexion looking more matte. As someone with a perpetually shiny T-zone, especially this time of year, I am probably most excited about these particular perks.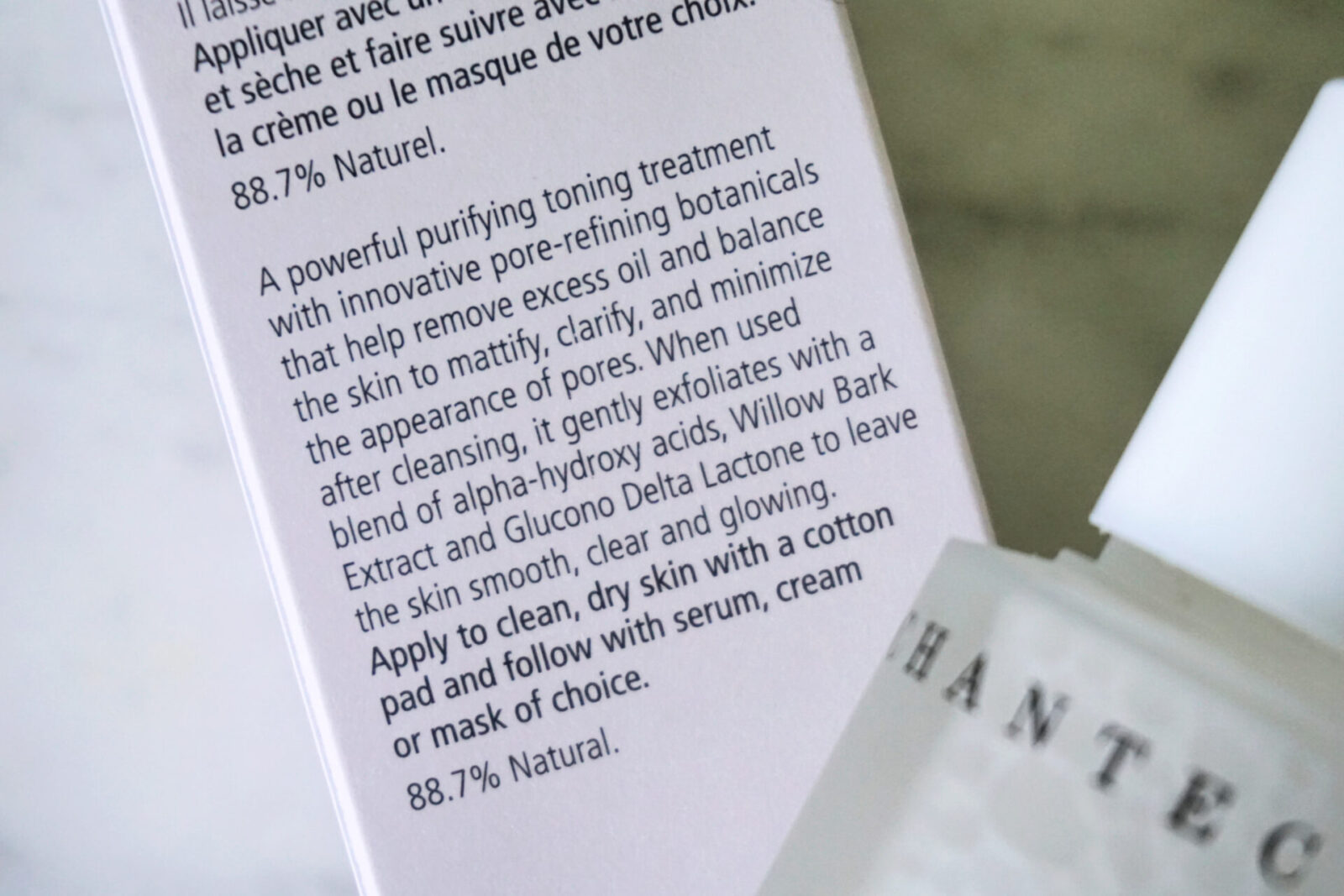 What to expect
Rarely do I call products miraculous but the new Chantecaille acid toner has been among the more impressive additions to my skincare routine. With that said, bear in mind that it's a resurfacing solution and needs to be used thoughtfully. Don't overdo it. More product more frequently does not deliver faster results. If anything, the opposite may be true. Listen to your skin, proceed with caution and while you may see some instant brightness, real transformation may take 30 days. My skin is definitely clearer, brighter, and more even after having incorporated the new Purifying Solution into my routine a month or so ago. 
If I were to compare it to some of my other favorites, I'd say it's a bit more potent than the Royal Fern Essence but not nearly as strong as BR P50 1970. After experimenting both AM and PM, my skin has done best with this one once a day and my preference is to apply it in the morning. I'm very into this Chantecaille newness.
$99 (100ml) available at spacenk.com