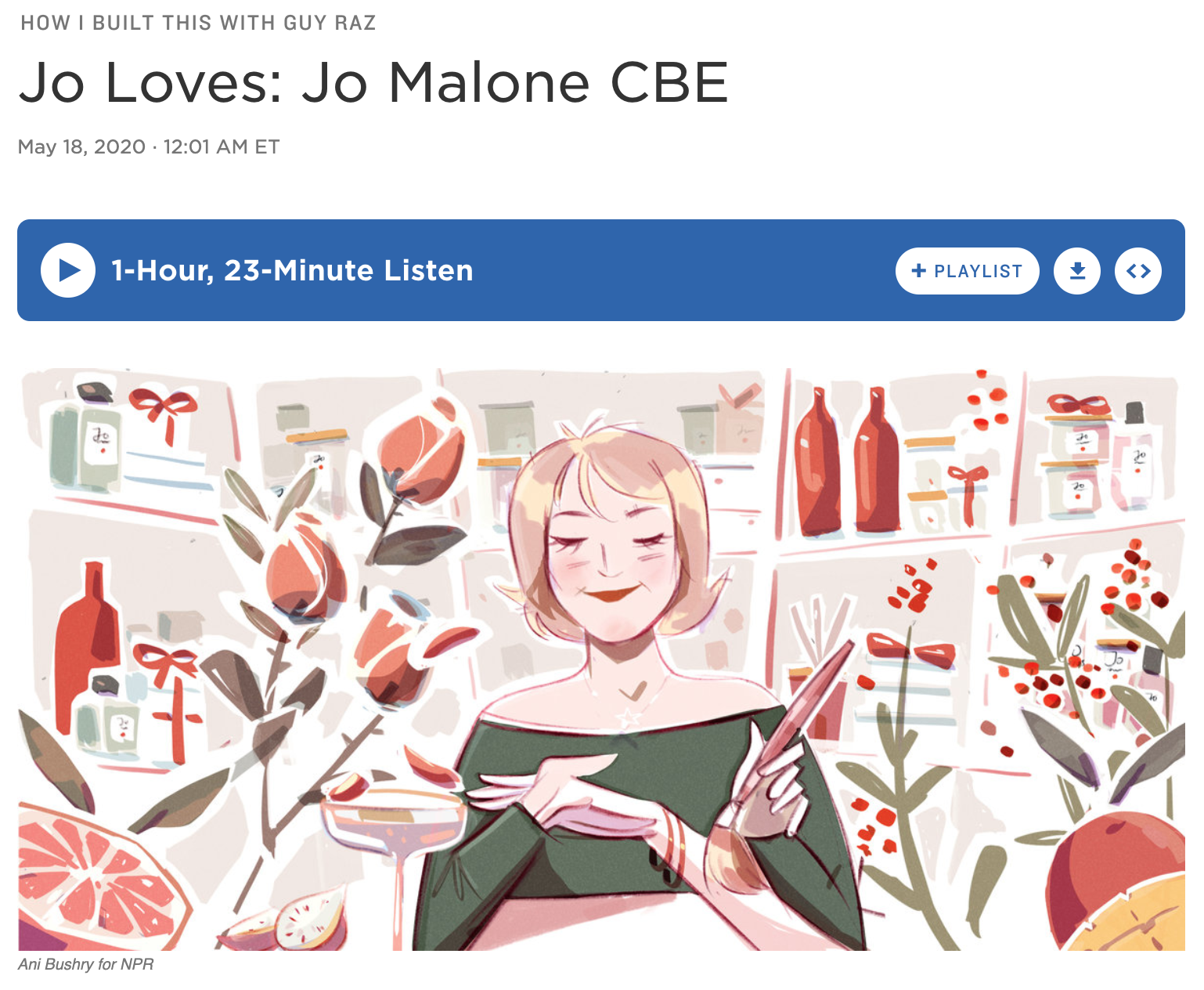 A few weeks ago, I listened to Jo Malone on an episode of NPR's How I Built This with Guy Raz podcast. Already a fan of the now Lauder-owned Jo Malone London brand, and a major Pomelo fragrance groupie from Jo Loves, the line I refer to as The Second Coming of Jo, I was all ears. Literally. If you're looking for juicy industry gossip, the interview is actually drama and gossip free. But if you're curious about insider tips and tricks, at one point, Jo recites the ingredients in a DIY face mask recipe she's been mixing herself for decades. Who wrote everything down and ordered before the pod was over? Me.
Yogurt, honey, lemon juice, sandalwood powder, slippery elm powder, olive oil, avocado oil, and jojoba oil. Neither proportions or measurements were shared. I found the sandalwood powder and jojoba oil on a site called Eden Botanicals. Slippery elm was Prime eligible on Amazon. Everything else: already in the kitchen.
At this point I should mention that two friends, both brand founders and experts in formulating products, dampened my enthusiasm. One said, "love a good honey mask!" The other, "this looks terrible!"
Nevertheless, he persisted.
My attempt at mixing Jo Malone's recipe resulted in a rather thin and not very well blended lotion-like mess. Mind you, I decided not to add any lemon juice because well, it's lemon juice and I like my skin. In addition, had I added another drop of liquid the concoction would have become too runny to apply. I tried. It was neither cute nor fun. And truthfully, my skin didn't feel better, which made me sad. Many probably won't remember Jo Malone's impressive skincare line from the early 2000s or the treatment room at her flagship store in New York City's Flatiron, the setting for one of my favorite facials of my twenties (the Juniper Tonic and Protein Serum were amazing). Oh, the golden days of beauty…
A follow-up message from my 'this looks terrible' friend arrived later the same day. Sandalwood Extract can help brighten the skin and acts as a powerful antiseptic that clarifies the complexion. Slippery Elm is rich in antioxidants and aids in healing and soothing the skin. She suggested I pick up a jar of Evanhealy French Rose Clay for my a la carte masking project and abandon Jo Malone's recipe altogether. Listen to your friends, you guys.
A quick google search introduced me to Evanhealy, an organic and handcrafted range of skin care products. Later this week, I hope to visit a health food store a few towns over to play with the products (the face mists called HydroSoul are calling my name). Triggered by impulse, I have already ordered a jar on Amazon.
The Evanhealy French Rose Clay is a blend of two ingredients: Pink Clay (Kaolinite) and Rhassoul Clay (Moroccan Lava Clay). The ultra fine powder mixes great with any liquid; water, apple cider vinegar, acid toner, or your favorite essence. All you need are a teaspoon of the Evanhealy mask and a few drops of liquid. I've been adding ¼ teaspoon each of Sandalwood and Slippery Elm Powders to elevate the soothing experience (I tend to over exfoliate during the summer months). Since I already use acid toners and various peel pads, I omit the yogurt, which is recommended for its gentle exfoliation via an Alpha Hydroxy, Lactic Acid in DIY recipes.
If your skin craves extra moisture, a bit of honey is a great addition and will make the clay mask slightly more soft-drying. It also lessens the tightening effect some may find uncomfortable. If you're unimpressed with a face oil that didn't live up to its promise but you aren't ready to ban it from your shelfie, add a dropper full to a DIY mask as a nourishing booster. As mentioned, straight up lemon juice is just too harsh to apply to the skin. Save that for a round of Lemon Drops at the end of the day.
Sadly, my Jo Malone mask project wasn't a success but I am thrilled with the jar of Evanhealy French Rose Clay. My combination skin gets congested easily, and at this time of year (hello, unbearable humidity), a weekly clay mask delivers a much needed deep cleanse. It's a sure way to bring impurities up to the surface and prevent blackheads from forming. Gentle and effective would be the best way to describe this recent discovery.
$19.95 (1 oz.) at evanhealy.com but I lucked out with a 2.1 oz size on amazon.com.