There are two ranges within the Dr Jart+ brand lineup that consistently excite me: Ceramidin and Cicapair. Curiously, both collections are geared toward sensitive skin types, so technically I don't fit the mold. However, they have been very good to my complexion during these changing seasons as well as whenever a potent active has triggered an unpleasant SOS reaction. When Cicapair expanded a couple of summers ago, I instantly became obsessed with the then new face mist and gel cream. This time, as I'm wishfully pushing the season and prepping for Spring, my skin is loving a couple of new arrivals. Recently, Dr Jart+ brought two new gems from the Cicapair line Stateside — the Enzyme Foam Cleanser (that has been around in Asia for a while) and Sleepair Intensive Mask (called Sleepair Ampoule-in Mask overseas). More below!
What is Cicapair all about?
This particular collection is focused on calming sensitive complexions that are prone to redness. I am not struggling with this concern personally, which explains why I have not previously spoken about the hero product: Color Correcting Treatment. I will say however, that when travel was a thing, I was served well inflight by the Tiger Grass Serum. It helped me avoid the uncomfortable skin tightness associated with devilish air travel. Each Cicapair formula is powered by Centella Asiatica or Cica, for short, and more commonly referred to as Tiger Grass Extract. This unique botanical helps skin heal more quickly, boasts anti-inflammatory properties, and contains antibacterial chlorophyll. Fun fact: tigers in India rub their wounds into patches of this grass to heal quicker, hence the name.
Enzyme Foam Cleanser
My favorite face washes are all foaming formulas, especially those ultra frothy Korean or Japanese imports. The new Dr Jart+ Enzyme Foam Cleanser combines two elements I enjoy most from the K-Beauty world: rich foam consistency and enzymatic powder wash. It's by no means a harsh cleanser; actually, anything but — it's one of the most gentle foams I've tried. There is no scent. The creamy texture turns into a soft silky lather and leaves the skin feeling supple, not the slightest bit dry, upon rinsing.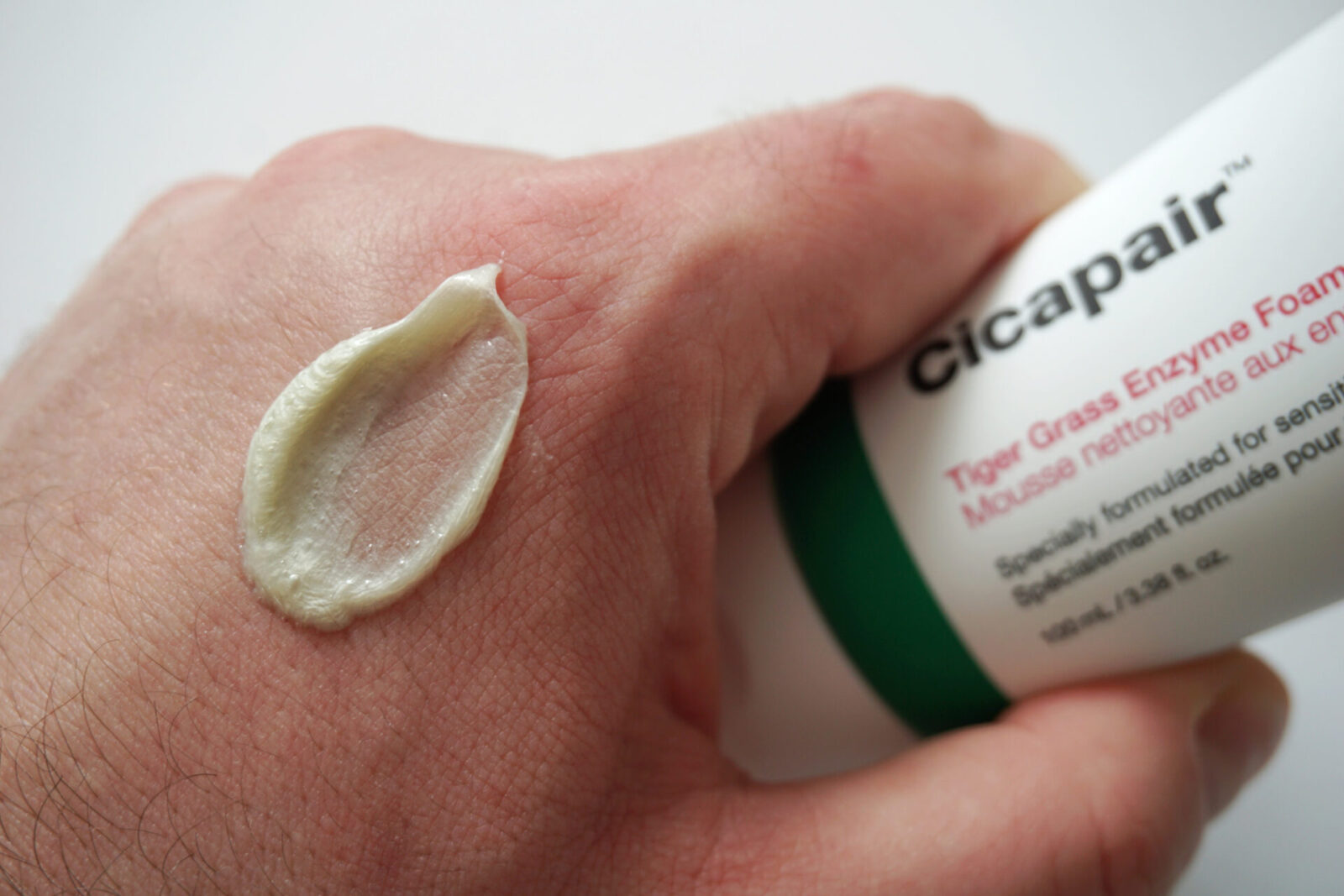 In addition to Tiger Grass and its gentle cleansing agents, the new Cicapair Enzyme Foam Cleanser contains a proprietary blend of mild (but effective) enzymes. Unlike the fruit enzymes we often see in cleansers or masks (think Papaya, Pineapple, Pumpkin, to name a few), the Dr Jart+ fusion includes Lipase and Protease, both of which are produced naturally by our bodies. These won't perform the harsh exfoliation (like intensive digestion of a keratin protein aka dead cells that form the top layer of our skin) but will rather help neutralize free radicals and help break down excess sebum. We all want smoother, brighter skin without any irritation. This face wash is truly impressive. $25 (100ml)
Sleepair Intensive Mask
First things first: the jar is massive. You're getting 100ml of product, which will last months, since this is not necessarily a regular step in your evening routine. Sleeping masks are the last step in your nighttime skincare regimen but personally, I have yet to successfully apply a water based formula over any face oil. On the flip side, K-Beauty is not known for using facial oils all that much so it would go on after an essence, toner, ampoule, serum, lotion, and so on. That could work!
The Sleepair Intensive Mask has a whipped gel texture that is slightly stretchy. It has quite a slip to it, one almost reminiscent of a makeup primer (Vinyl Dimethicone I see you). Of course the spotlight is on Centella Asiatica because we aim to calm and soothe. Worthy of a shoutout are Niacinamide, Vitamin B5, Adenosine, and Holy Basil Extract. The last couple of nights, I applied it over my prescription retinoid, also a gel texture, and worried the new Cicapair formula would pill. Luckily, it absorbed beautifully within a few minutes.
In my experience, gel sleeping masks help most when skin is parched and dehydrated. When you need to address dryness, cream textures will work significantly better. Honestly, whenever my skin feels dry or itchy, I reach for a night cream or a face oil. Or both. The new Dr Jart+ Sleepair Intensive Mask makes for a great soothing, hydrating, and calming solution. I may need to do a side-by-side with the Cicapair Gel Cream to determine whether I need both or if it's an 'either or' situation. If you're looking for a soothing, fragrance-free overnight solution to help quench your skin with extra hydration, give it a try. $39 (100ml)
Available at drjart.com and sephora.com