Five years after introducing its first peel, Algenist has officially replaced the bi-phase Genius formula this summer with its newly launched Blue Algae Vitamin C™ Dark Spot Correcting Peel. This more advanced treatment tackles a wider range of skincare issues–from uneven tone to stubborn hyperpigmentation. It is also slightly easier to use. More importantly, the latest addition is a safer bet for sensitive skin types as it's as impressively powerful as it is gentle. A quick review below.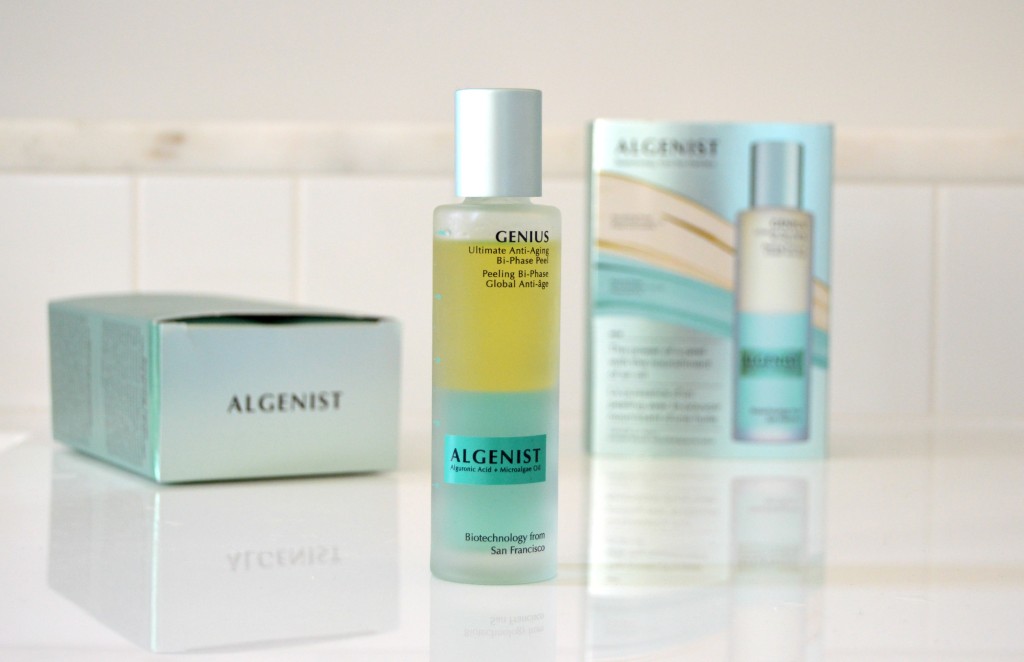 What is it?
The new Blue Algae Vitamin C™ Dark Spot Correcting Peel is a twenty minute rinse-off solution intended to be used once or twice a week with the goal of lightening dark spots and brightening your overall skin tone. The treatment has a gel texture with a whimsical blue green hue and comes in a convenient pump bottle.
What's in it?
Algenist uses 100% pure Vitamin C (L-Ascorbic Acid) extracted from Blue Algae as the brightening agent in this new release. Paired with this hero ingredient is an impressive blend of Alpha, Beta, and Polyhydroxy Acids to help resurface the skin, which helps reveal that youthful glow we expect after using anything labeled a 'peel'. In addition to exfoliating Glycolic, Mandelic, Malic, and Salicylic Acids, the blend contains Azelaic and Tranexamic Acids, both of which help correct uneven, blotchy skin tone.
The brand's signature ingredient and a constant in every Algenist formula, skin firming Alguronic Acid, is also included. Those familiar with Blue Tansy, will pick up its unique sweet earthy aroma — this soothing agent appears as Tanacetum Annuum Flower Oil on the ingredient deck. The nourishing fusion of Safflower, Sunflower, and Meadowfoam Seed Oils is an insurance policy against any potential dryness.
How To Use It
As with any rinse-off treatment, the peel goes on freshly cleansed, dry skin to work its magic before you go in with your serums and moisturizers. Algenist recommends a generous application: 4-6 pumps of the new Blue Algae Vitamin C™ peel. I found myself applying 10-15 and am convinced the models in their marketing materials are wearing at least 20 on their faces. It sounds like a lot of product but it really isn't since the pump does not dispense all that much per squirt. I'm not being critical either. Just the facts, m'am. There is a slightly warm tingling sensation upon application but I found it pleasant, not aggressive. The peel doesn't dry and is easily removed with a wet cloth sinkside — always a major bonus when you don't need a shower to rinse something off. It's a peel so please please please make sure you don't casually skip wearing your broad-spectrum sunscreen during the day.
Yay or Nay
Six applications over the last three weeks, I am definitely going to continue my Algenist peel adventure for the rest of the summer. My skin is noticeably brighter and more even, and while the pesky discoloration on the bridge of my nose hasn't completely disappeared, it has lightened up. This peel is also a great option for those who cannot slot a daily peel pad system into their routine and prefer a mask-like approach a few times a week. I've experienced zero redness after removing the Blue Algae Vitamin C™ Dark Spot Correcting Peel each time I've used it, including the time I accidentally left it on for a full half hour. I say try it.
$85 (45ml) sephora.com, algenist.com