Happy Easter!
Chances are, you're dealing with family or traffic today. Or both. You may not be enjoying either. Is the holiday meal just mediocre? Today is 4/20 so I'm going to be blunt. Mellow out and light one up! A Cannabis candle from (MALIN+GOETZ) that is. What did you think I meant? #pothead!
No, I am not obsessed with (MALIN+GOETZ). They just happen to make a few of my favorite things. The successful launch of the Cannabis candle circa 2011 sparked so much interest, begot a votive baby sibling, and just recently a hand and body wash that features the same herbal/grassy note. #dope!
The earthy notes of Cannabis by (M+G) consist of orange and lemon on top, fig and pepper in the middle and the intoxicatingly relaxing come down of oakmoss and patchouli. With 16% eau de toilette in the blend, this bowl of wax burns like a dream. In a strange way, the candle smells like a great looking guy. The sexy scent lingers seductively but never overpowers. #addictive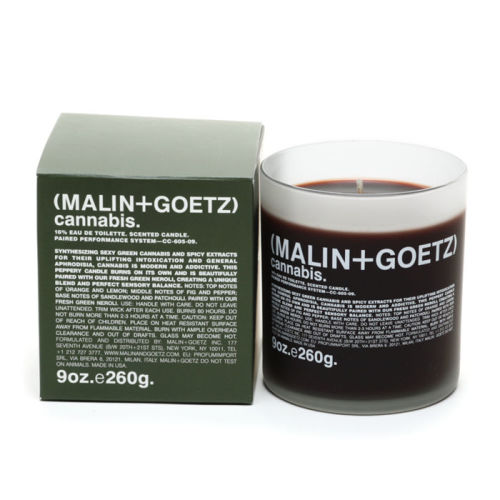 If you don't live in Colorado or Washington, this top shelf candle delivers a seriously calming effect right to your door. The larger size burns for 60 hours and the votive goes strong for at least 25. Gender and decor neutral, they blend in with any crowd in any joint and make for perfect gifts. Especially for a bud.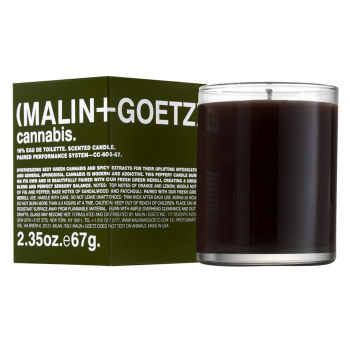 For those with more chronic cravings, try adding the hand and body wash to your daily regimen. Take it a step further with the Cannabis Perfume Oil by (MALIN+GOETZ). Be prepared though, like all other great stuff, the oil can only be purchased by calling or visiting their New York stores.