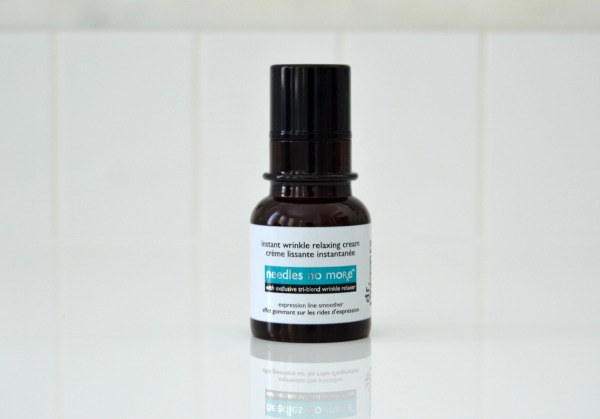 :no_entry: :syringe:
Having tried facial injectables once or twice, I am consistently intrigued by topical skin care products that promise to rival the magic of a needle. When Dr. Brandt launched his latest, Needles No More, last year, it climbed to the top of my wishlist fast. After a couple months of faithful use, I've replaced my first bottle with a fresh supply, proving that "taking the doctor home with you" can lead to an exciting long term relationship.
Loaded with anti-aging peptides, Needles No More from Dr. Brandt is rich in minerals and retexturizing acids. Addressing fine lines in places where help is needed most, it is the easiest and most effective addition to any anti-aging routine. After cleansing and before moisturizing, this cream gets preferential treatment on areas of concern. To maximize on instant benefits, do not rub it in. Instead, pat it on gently and wait a few minutes before proceeding with your moisturizer or makeup application. As with most spot treatments, success is less about any learning curve and all about proper sequencing.
Because of its Shea Butter content, Needles No More never feels drying on this combination skin. Used sparingly and on point, I choose to apply it on my forehead where the horizontal lines are becoming a little too prominent. Perfect on crows feet and the dreaded worry lines between the brows, this latest from Dr. Brandt Skincare offers both instant and long term results with continuous use. A word of advice: it feels wonderfully refreshing and tightening around the eyes but because it contains a tiny bit of menthol, be sure to avoid the lash line. The light scent of peppermint is lovely – your eye stinging is not.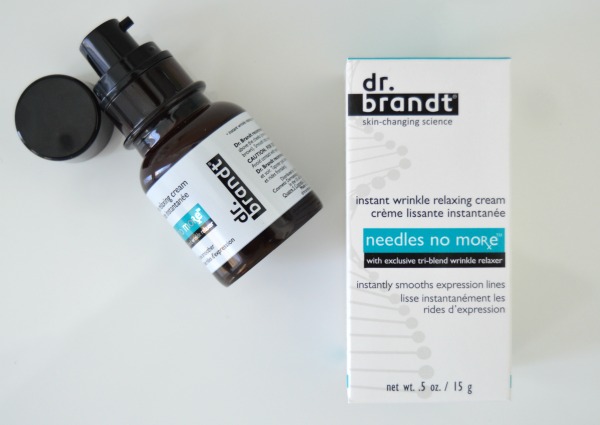 In addition to the wrinkle softening Neuropeptides, the Needles No More formula also features Magnesium and Adenosine to prevent and relax the facial contractions. The unique blend of active ingredients targets expression lines specifically and is able to diminish their appearance. Gentle exfoliation via Glycolic and Lactic Acids also helps to promote a more youthful complexion. If you enjoy being expressive and animated, the worried or concerned look is the last thing you need. Try Needles No More.
When trying a topical treatment that suggests results similar to Botox, be diligent, but be realistic. You have to use the product as suggested faithfully to notice any difference, use the product as suggested. Dr. Brandt Needles No More will not replace the dramatic results attained through a medical procedure, but the subtle change to fine lines is most definitely visible.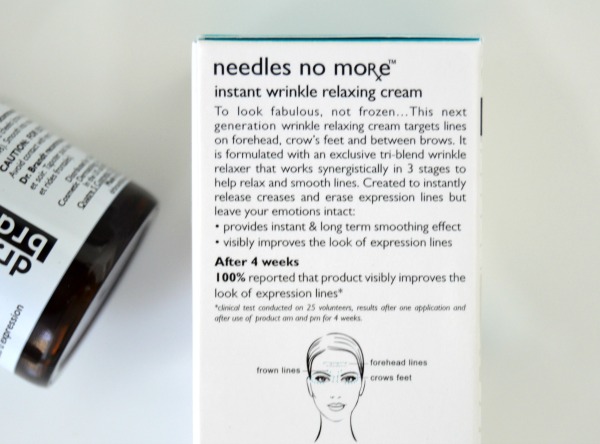 With his trailblazing 'microdermabrasion' formula, which started the professional grade at-home movement, Dr. Brandt Skincare offers fantastic options for all skin types. While I wish the Vitamin C Eye Cream had never been discontinued years ago, I might be persuaded to dive into the very appealing Retinol Eye treatment. Check out the full range at Sephora.com or at www.drbrandtskincare.com and pick up Needles No More for $89 (.5 oz) HERE. Top secret tip: try a free sample of Needles No More at www.lookfabulousnotfrozen.com!