Back when Vogue was putting legit people on their covers, they called EVE LOM Cleanser "probably the best cleanser in the world." Since then, two things have happened. Vogue is no longer putting legit people on their covers and EVE LOM Cleanser is still one of the very best products out there. #strikeapose
The legendary cleanser comes in a jar with a 100% Muslin Cloth. It requires you to take your time at the end of the day to perform a cleansing ritual to reap the benefits of this iconic product. I loved it, but rarely had the time or could barely stand long enough to use it.
When my friend Anne told me that EVE LOM was launching a travel friendly version of her bestseller made for those who prefer to "cleanse in a different way, at a different time of day" I heard angels sing. Or were those joybells in my heart? #itsthelittlethings
I'm skipping the cliché of your face offering up a blank canvas ready for any treatment. All that dirt, grime, pollution, excess oil… Whether you live in Manhattan or Manhattan Beach, cleansing is important. And, using a proper cleanser is major. #MAJ
EVE LOM Morning Time Cleanser comes in a sleek white tube. Suitable for all skin types, it balances my combination skin and is an absolute treat to use. I apply it on dry skin, leave it on for a few minutes while I brush my teeth in the morning, and step into a steamed up shower to rinse. It never leaves my skin feeling dry.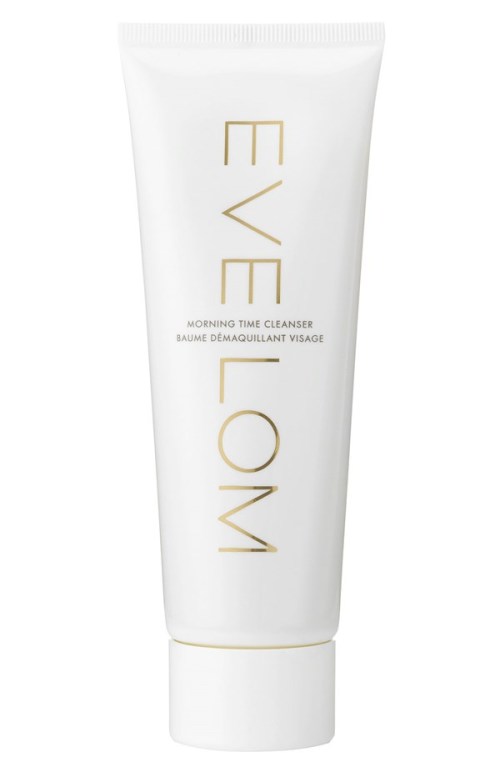 The aromatherapy is achieved courtesy of clove, eucalyptus and hop oils. While I grew into herbal scents via skin care, this particular blend transports me to a countryside spa in England. Its natural scent is soothing and invigorating at the same time. I love everything about it. #KoalaBart
EVE LOM believes that proper cleansing with gentle exfoliation provides the perfect rosy glow. The Morning Time Cleanser uses papaya fruit enzyme to exfoliate and brighten as it cleans the pores. Carrot oil is added to its formula to help stimulate collagen production. #BOOM!
I enjoy taking my time to pick whatever I am to use on my face from a stash that rivals any beauty editor's product closet. Some mornings, however, I only have minutes to play with, which includes a shower. I turn to, EVE LOM Morning Time Cleanser, which is the only option on such days. #lifesaver
There are very few effective multitasking products available but
Morning Time
certainly qualifies as one. It cleanses, brightens, decongests, exfoliates, tones, and softens. And, it accomplishes each of these with serious aromatherapy realness. If you've never tried EVE LOM, start with this cleanser. I always start with a face wash when encountering a brand new to me. #preach!
Get your tube from Sephora.com or SpaceNK.com ($60 for a 4.1oz tube) . Free shipping, free returns, free samples. #Hello!