Dictionary.com defines the word "blur" as a smudge or smear that obscures.  I myself,  have developed a love/hate relationship with the word, associating the adjective with the far too overplayed 'Blurred Lines' but living for the epic nights out with friends that result in texts the next morning filled with the noun as in, 'last night was a blur.'
When I read that Lancôme would be adding a product called [1 Minute Blur] to its Visionnaire family, I paused longer than a minute. Quickly, I reflected on the many happy memories that involved Lancôme's getting me through my twenties with their Impactive moisturizer, and made up my mind:  I'd add [1 Minute Blur] to my "wishlist.'
Sephora's VIB program offered early access to this blue little tube and their creative e-blasts almost always persuade me.   I wish early access came with some sort of promotion, since as is, members pay full price strictly for the honor of piloting a new product.
<Samantha Jones voice> Big whoop. </Samantha Jones voice>
I've been a huge fan of the Visionnaire face serum since its debut, so Lancôme's expansion of its product line got me excited.  I snagged a tube, but soon forgot about it – hoarding beauty products is an ongoing theme in my product-junkie life.  I didn't want to fall too in love too quickly with a 1oz non-treatment, non-color product that retails for $55. I didn't want to hyperventilate on the first try either. I even considered half a Xanax before my first application.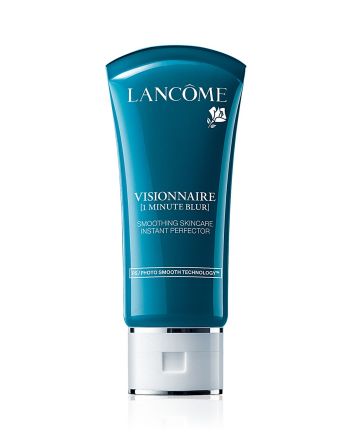 Well, after using it for a few days, I'm ready to share some first impressions. What is most appealing about Visionnaire [1 Minute Blur] is its texture, which results in an application that never pills. I have used blurring products before and have probably aged a few years dabbing, tapping, waiting, applying, and waiting some more. And, even after waiting, I could never successfully apply anything on top. Whenever I would try, the finisher would pill or crack. Wait, that came out wrong.
Visionnaire is a creamy version of a light-weight silicone driven primer without the customary crazy greasy slip. It is to be applied post treatment and pre-color. It is marketed as a skin-finisher that blurs imperfections.
I have a patented routine that begins with the thinnest of serums or treatment lotions I have in rotation, followed by the Vibrant face cream from Prescriptives, then Visionnaire [1 Minute Blur], and lastly, a tint of choice.  Speaking of tinted moisturizers, La Mer's fluid tint has been discontinued.  Happily, I managed to find two unused tubes in my stash, but I'm looking for suggestions for what to use when they run out.
So far, Visionnaire's 1 Minute Blur mattifies brilliantly.  I am excited to see how [1 Minute Blur] works in the summer when my T-zone might get mixed up with the many light-houses here on the East Coast.