Elemis has been launching quite a bit of product over the past year… and I'm here for it. Expanding on the success of the Superfood range, the brand recently released two new formulas: AHA Glow Cleansing Butter and Glow Priming Moisturizer. Since I adore the iconic Pro-Collagen Cleansing Balm, I was super excited to see how the newness compares to the intoxicating melts everything in sight formula. And honestly, I've learned that ELEMIS does cleansers phenomenally well. This is speaking from experience. I've been using the Dynamic Resurfacing Wash since it was called Tri-Enzyme. That's a long time ago.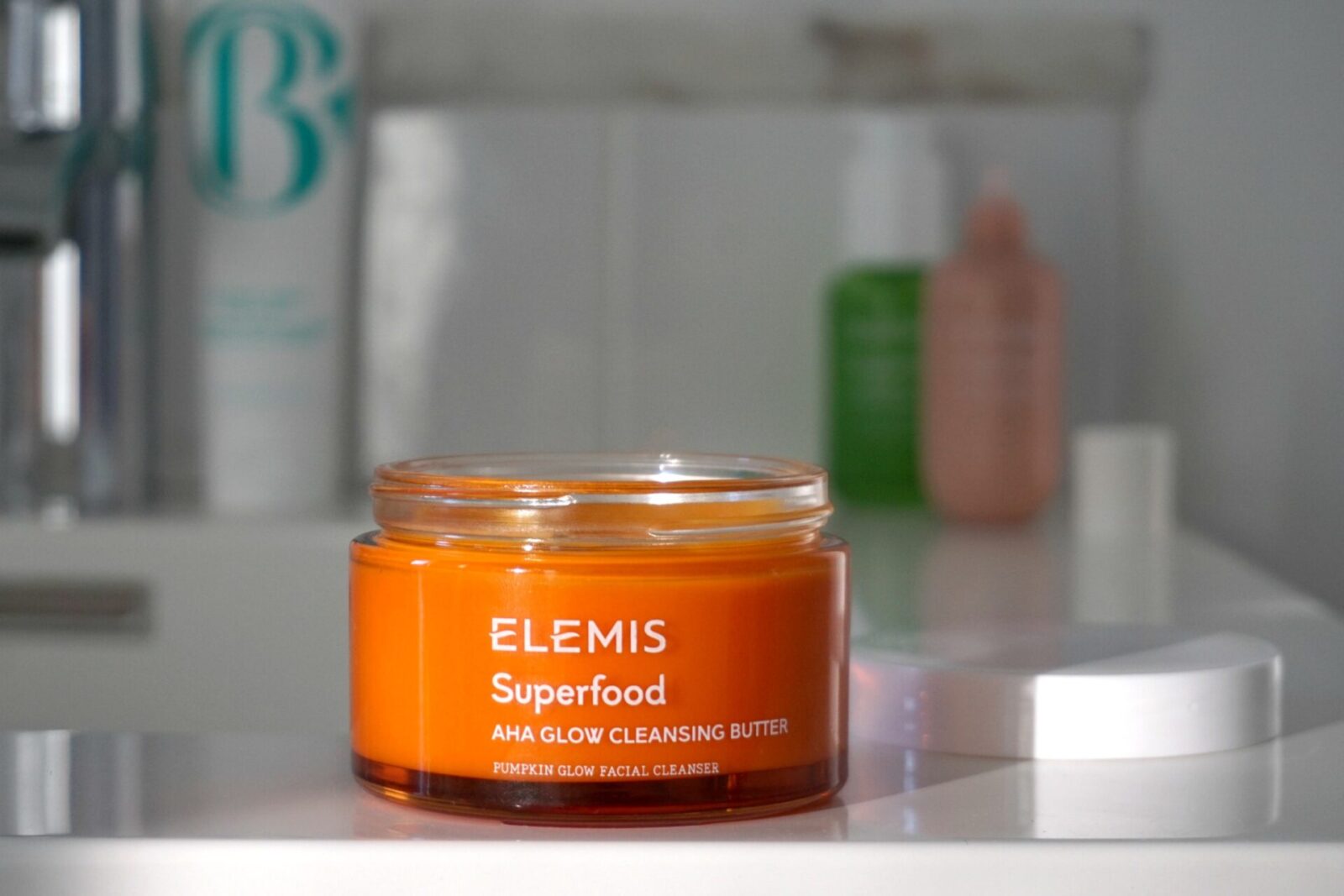 AHA Glow Cleansing Butter
The latest Superfoods addition arrives in a stunning glass jar and has a chic Hermès orange color. Since the oh-so-spreadable butter texture is infused with plant oils and Alpha Hydroxy Acids, this new cleanser works in three ways: as an instant makeup remover, as a deep cleanser if you massage it in for a couple minutes, or, when left on for 10-15 minutes, as an exfoliating mask. Here's a plot twist: unlike a cleansing balm, this one won't liquify nor turn frothy after contact with water. It simply melts away and rinses off. It's still very satisfying.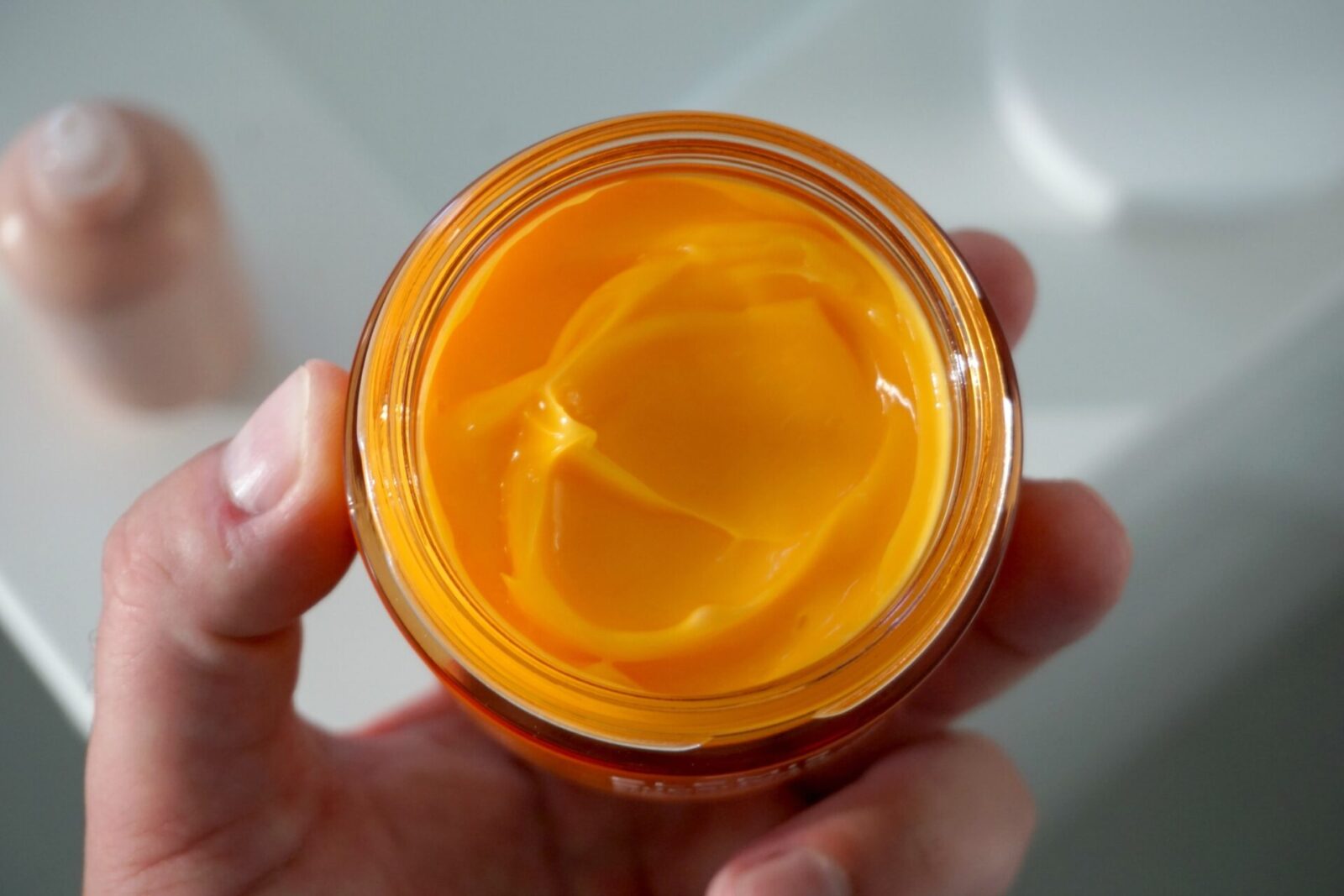 Let's chat ingredients.
The new AHA multi-tasker has a creamy Mango Butter base that is infused with nourishing Chia Seed, Olive, and Sunflower Oils. It's neither greasy nor slippery and feels very much  like a thick cream. Now, onto the Alpha Hydroxy exfoliation sources: fermented Pumpkin and Cherry Acerola Extracts. Pumpkin is known for its rich enzyme and AHA content while Cherry is mildly acidic and abundant in skin brightening Vitamin C, beta-carotene, and polyphenols. The formula also highlights Rice Ferment Filtrate which contains Ferulic Acid and Vitamin E, known for their superb antioxidant protection. Unfortunately for me, the AHA Cleansing Butter has no scent. That's a stroke of luck for those who find the Pro-Collagen Cleansing Balm too fragrant.
How to use:
Similar to oils and balms, the new cleansing solution goes on dry skin first. You massage it in and then rinse with water or wipe off with a hot cloth. Personally, I am rather enjoying this launch as step one of my double cleanse and find it removes tinted sunscreen very well. If I leave it on for a few minutes and use a hot flannel to take it off, the additional friction of physical exfoliation often results in not needing a follow up cleanser. In that case, my next step is a hydrating essence. Overall, this one is a winner. $38 (90ml) elemis.com
Glow Priming Moisturizer
This lightweight moisturizer in a squeeze bottle with a narrow tip resembles makeup rather than skincare. It has lotion like consistency and a visible gleam that is hard to miss. What does it do? It hydrates the skin and creates a strobe light effect with notable iridescence. More than a highlighter, it is infused with skin energizing Black Tea and Ginger Ferments, which may brighten your complexion. Mica, the micronized mineral in the formula provides the highlighting effect which imparts instant glow. 
How and when
If you're not used to wearing highlighter-like moisturizers, it's best to begin small (with only a little product) since you can always build up the effect. Also important: blend it in and out as you would makeup. Otherwise, streaks of sheen will appear in random places and patches of any kind are never a good look. The new Glow Priming Moisturizer dries quickly and is completely non-sticky. It also allows for flexibility and can work as a primer under makeup and as a brightening moisturizer or highlighter on high points on the face. The strobe effect is definitely more pronounced in sunlight vs. indoors. I'm not sure I'll be incorporating this particular launch into my daily routine but it's a lovely release for those who prefer an added boost of glow this summer. $49 (60ml) elemis.com