I can't think of a brand that exemplifies and embraces "less is more" than Vintner's Daughter. As a single SKU brand for years, it quickly earned the "face oil to end all face oils" status and became everyone's splurge-worthy 'little black bottle'. A few years ago, Essence joined the Serum providing the much sought after balance of moisture and hydration. This month, the latest, most-requested formula launches as Vintner's Daughter celebrates its 10th birthday– let's all bow down to the Active Renewal Cleanser. 
If you're familiar with Vintner's Daughter, you know its founder, April Gargiulo, takes efficacy, luxury and sustainability very seriously. Sparing no expense, the Serum and Essence provide an indulgent sensory experience. More importantly, they deliver a noticeably impressive glow. Needless to say, I wasn't the slightest bit skeptical about the Active Renewal Cleanser having been formulated to deliver in a single step the power of a double cleanse. If anyone can talk the talk and walk the walk, it's Vintner's Daughter. 
What is it?
Active Renewal Cleanser is a creamy face wash that hovers somewhere between non-foaming and generating silky-soft-yet-barely-there lather. It can be applied on damp or dry skin and promises to remove makeup, impurities, and stubborn sunscreen. It's also gentle enough to be used around the eyes. If the word 'active' has you thinking 'tingle' or possibly 'too potent,' worry not: there are no acids nor abrasives in the formula. It's super gentle. 
What's in it?
Four years in development, Active Renewal Cleanser is equal parts high-tech and whimsical. Infused with water and oil soluble phytonutrients, it really is a treatment face wash. In addition to cleansing and prepping the skin for treatment products, it brightens, balances, oxygenates, and energizes the skin. In a nutshell, this cleanser exhibits valid extreme makeover properties. It also magically reduces the appearance of enlarged pores. Ingredient highlights include Butcher's Broom, Dandelion Root, Nettle Leaf, Cica, Echinacea, but that's only a handful of radiance boosting botanical extracts used. Curious about the scent? I'd describe it as a subtle earthy aroma with notes of Frankincense and Cypress. It's absolutely lovely. 
How I use it
Ok, the directions say to apply 2-3 pumps (which totally works when you use it on wet skin), but I find that these are short squirts so I've been averaging 5 pumps per application. It's plenty of product to cover my face and also doesn't feel like I'm using too much or will finish the bottle more quickly than desired. Having tried it on both a dry and damp face, I prefer to apply it to dry skin, massage it in for 30 seconds or so and then use my Foreo LUNA sonic cleansing device (which I recently re-discovered and with which I am obsessed). After a minute long cleansing protocol with the device, I rinse or wipe off with a hot cloth. There is not a trace of my tinted sunscreen or the Jones Road WTF in Beige after a swipe of a cotton round after cleansing. Double cleanse in a single step it is.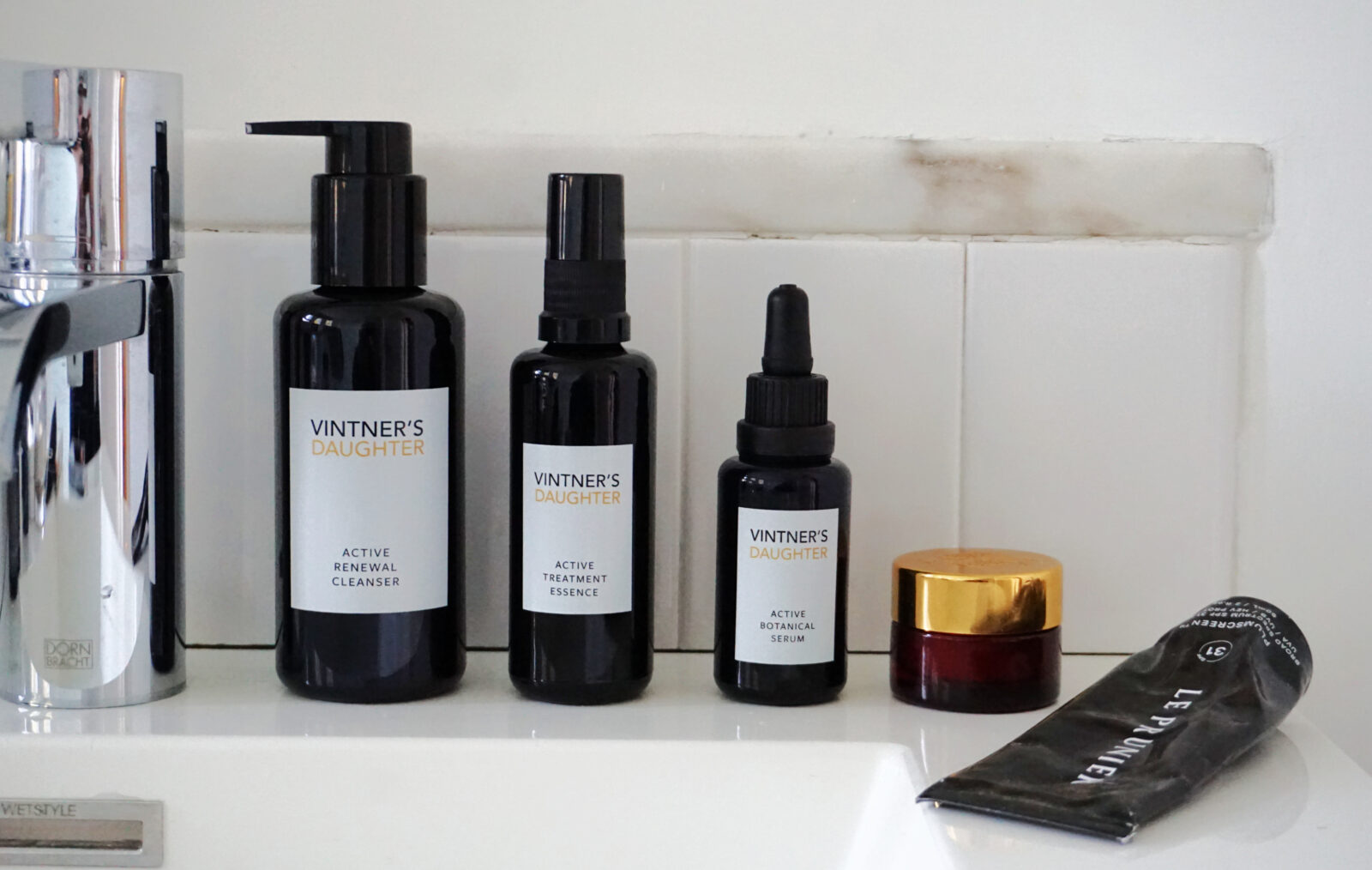 Do you need it?
If you're a brand loyalist or luxe minimalist, I am pretty certain you've already ordered your bottle. And I fully support that decision. A splurge-worthy face wash always encourages me to take extra time during the cleansing process and embrace this militant task as a rewarding self-care ritual. Every time I reach for my Active Renewal Cleanser, I feel pretty posh. Vintner's Daughter is now a triple threat– all you need is an eye cream and sunscreen. I never thought I'd say that but yeah, in my non-professional opinion, a fully comprehensive skincare routine can consist of just five things.