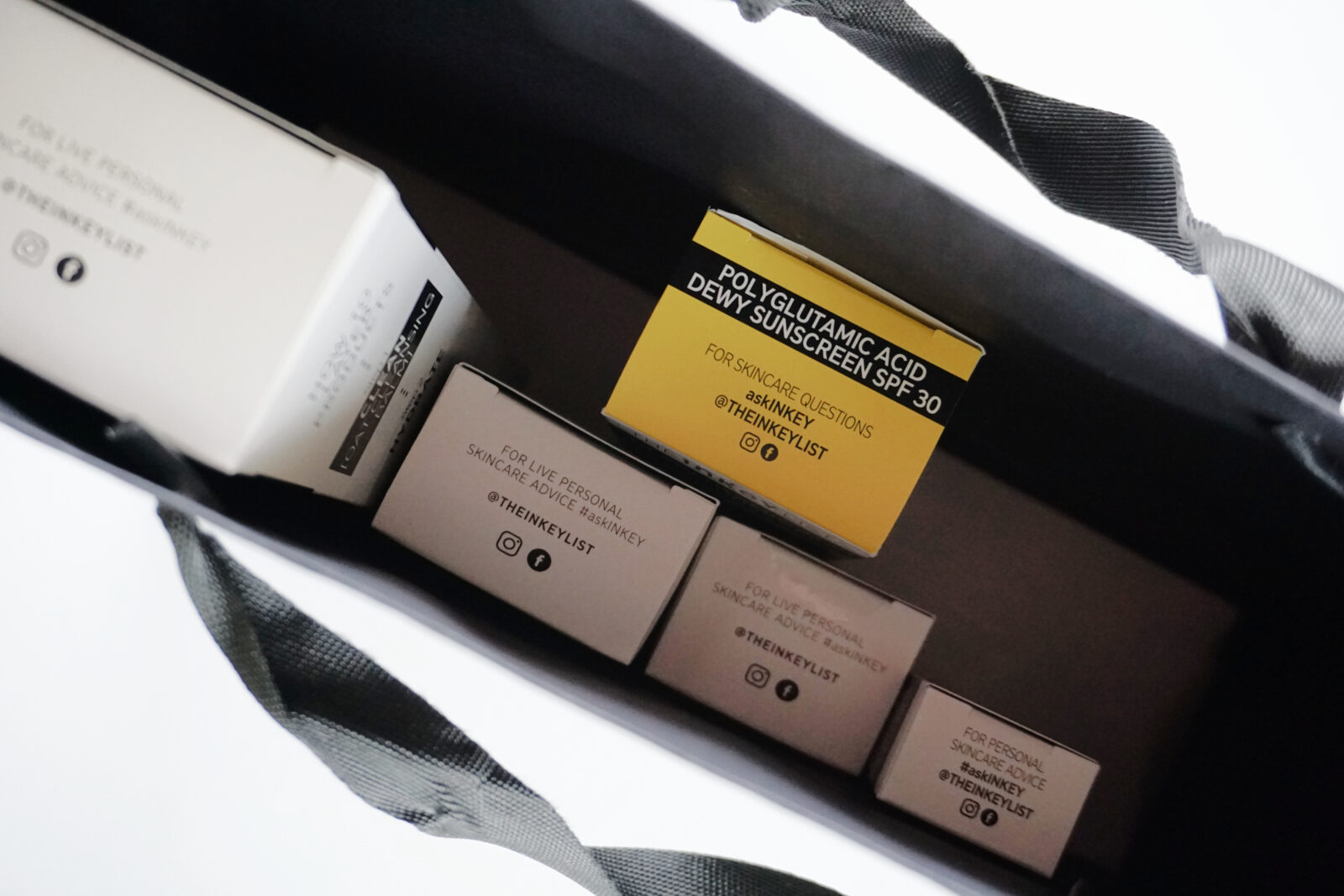 Oh how I wish The Inkey List existed when my skincare journey started over twenty years ago. Navigating around drugstore shelves circa 2000 only led me to overstripping my skin with acids I knew nothing about (and definitely did not need). Nowadays, Inkey's interactive website is one of the most user-friendly solutions available for determining your skin's needs or products that offer benefits no matter the complexion conundrum. Known for its blunt take on ingredient lists and ultra affordable price points, they offer a range of cleansers, exfoliants, treatment serums, and moisturizers. But it wasn't until this week, however, that the brand launched its first ever daily sunscreen. 
Let's toast to the arrival of the Polyglutamic Acid Dewy Sunscreen SPF 30. Yes, it's officially off the waitlist and available for purchase as of today!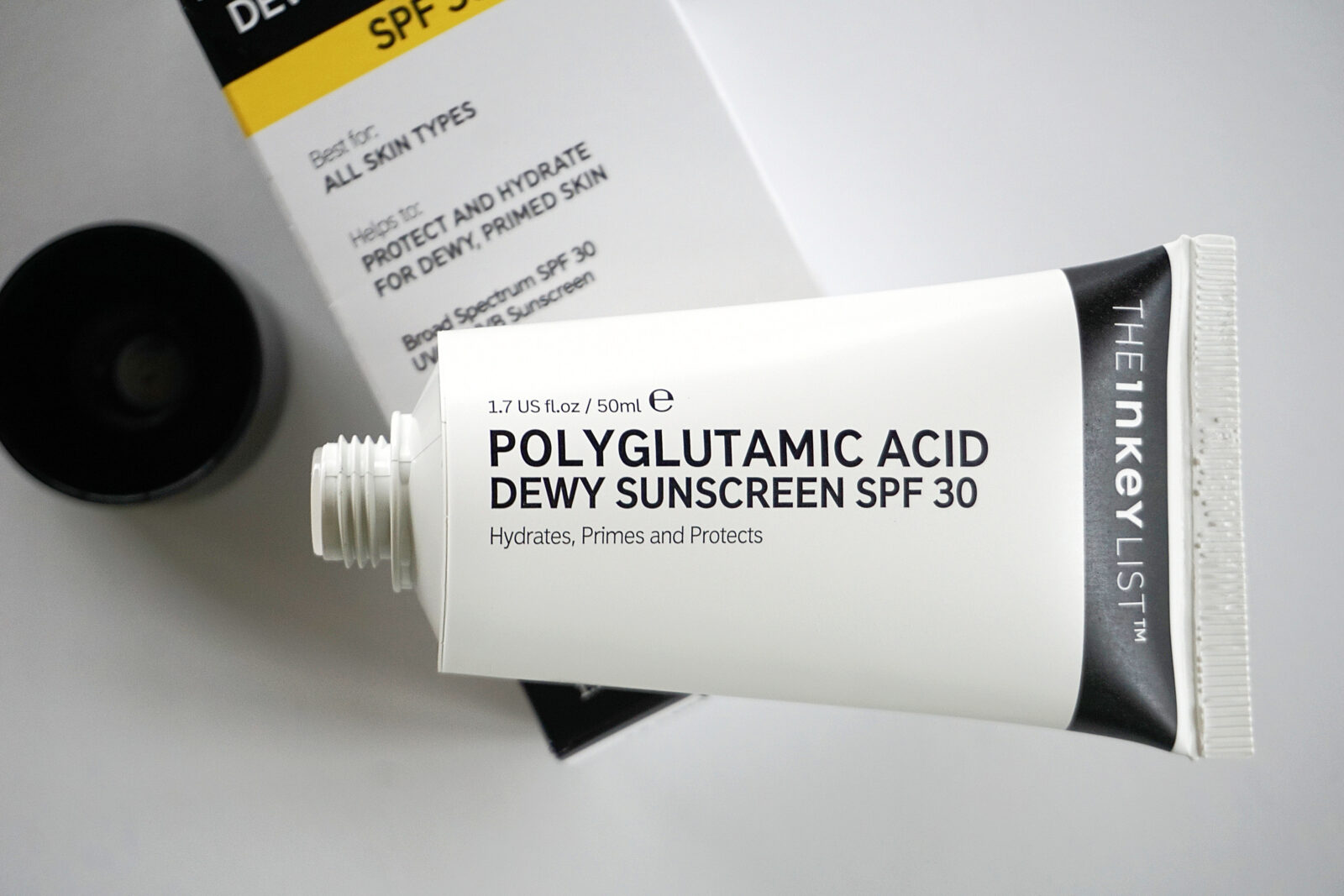 What is Polyglutamic Acid, anyway?
Similar to Hyaluronic Acid, Polyglutamic Acid delivers a heavy dose of hydration to the skin. We all know that Hyaluronic Acid can hold 1,000 times its weight in water. Now, meet Polyglutamic Acid, which can do that three times over. It's also of higher molecular weight, so it can stay closer to the skin's surface, giving it a plumped up effect, almost immediately. Polyglutamic Acid literally draws moisture from the environment into your skin. That's some juicy hydration.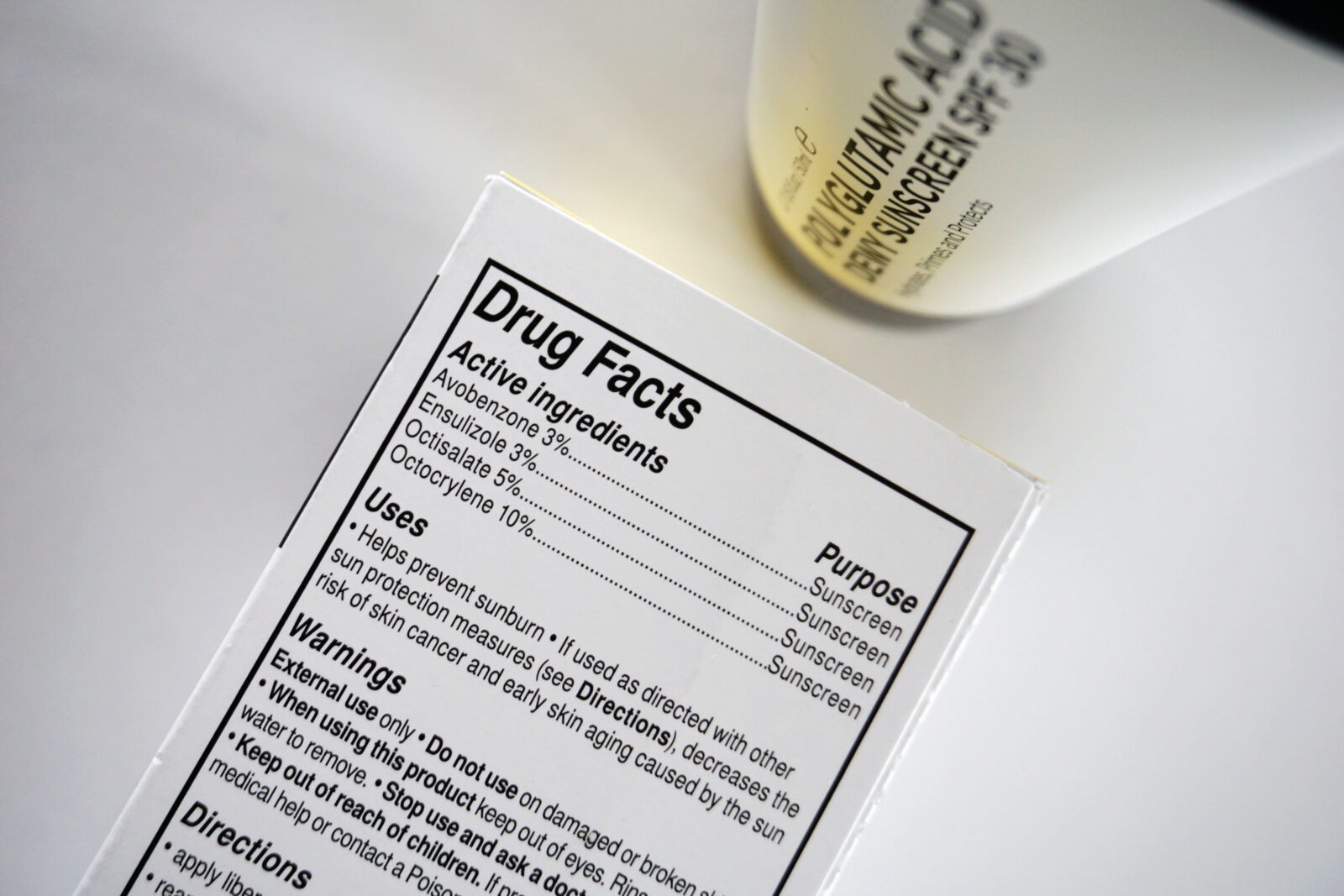 What SPF filters does Inkey use?
This is a chemical sunscreen with four UV filters in its composition. The blend includes Avobenzone 3%, Ensulizole 3%, Octisalate 5%, and Octocrylene 10%. Since this particular combination includes oil and water-soluble filters, it's safe to say this counts as your daily moisturizer, not as a poolside or beach sunscreen. Personally, I reach for mineral sunscreens when out in the elements. The last step of my daily face care routine hits differently. Here's an interesting tidbit I picked up during a recent panel with the brand's founders: though the formula is labeled SPF 30, it actually tested at 42 in the labs.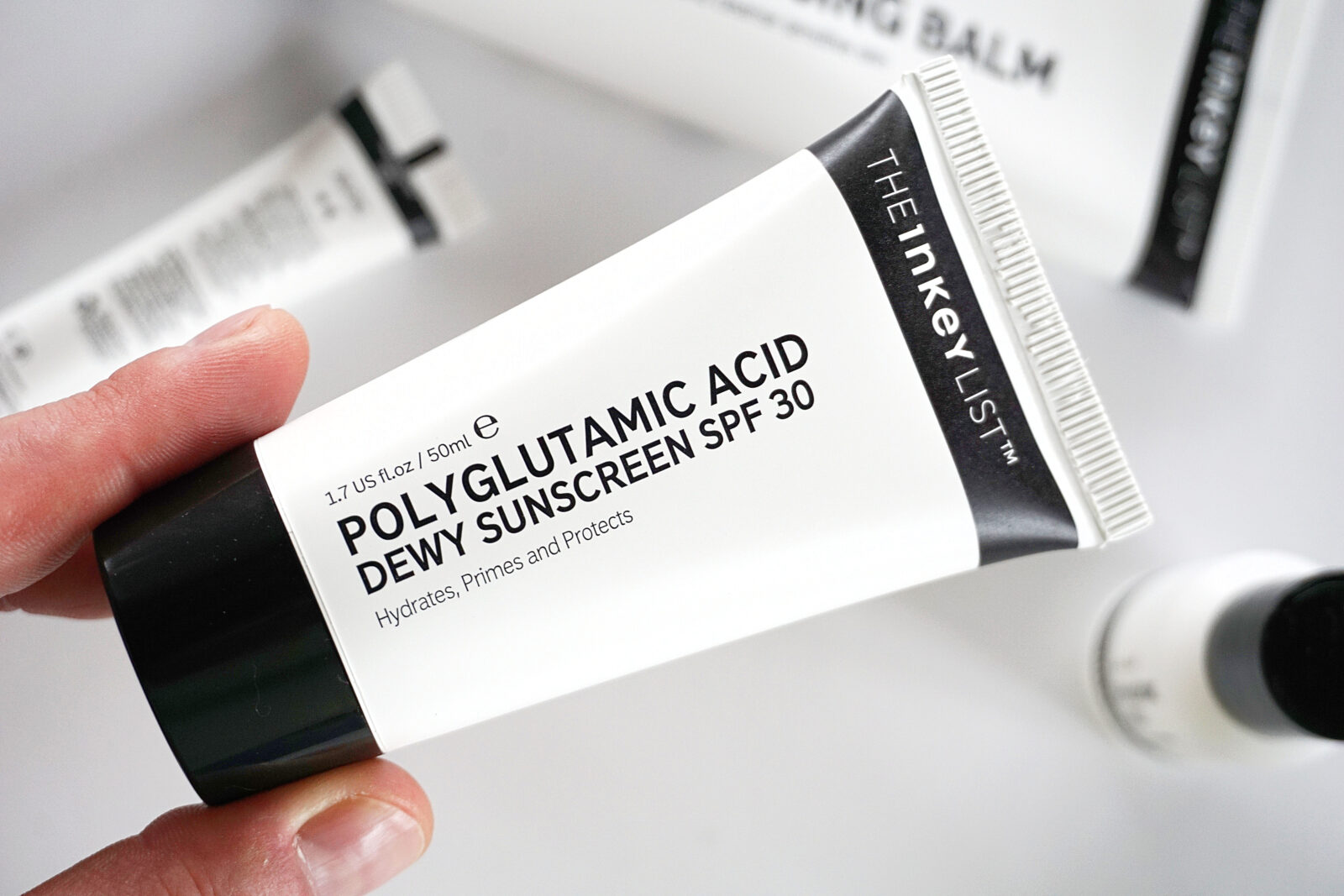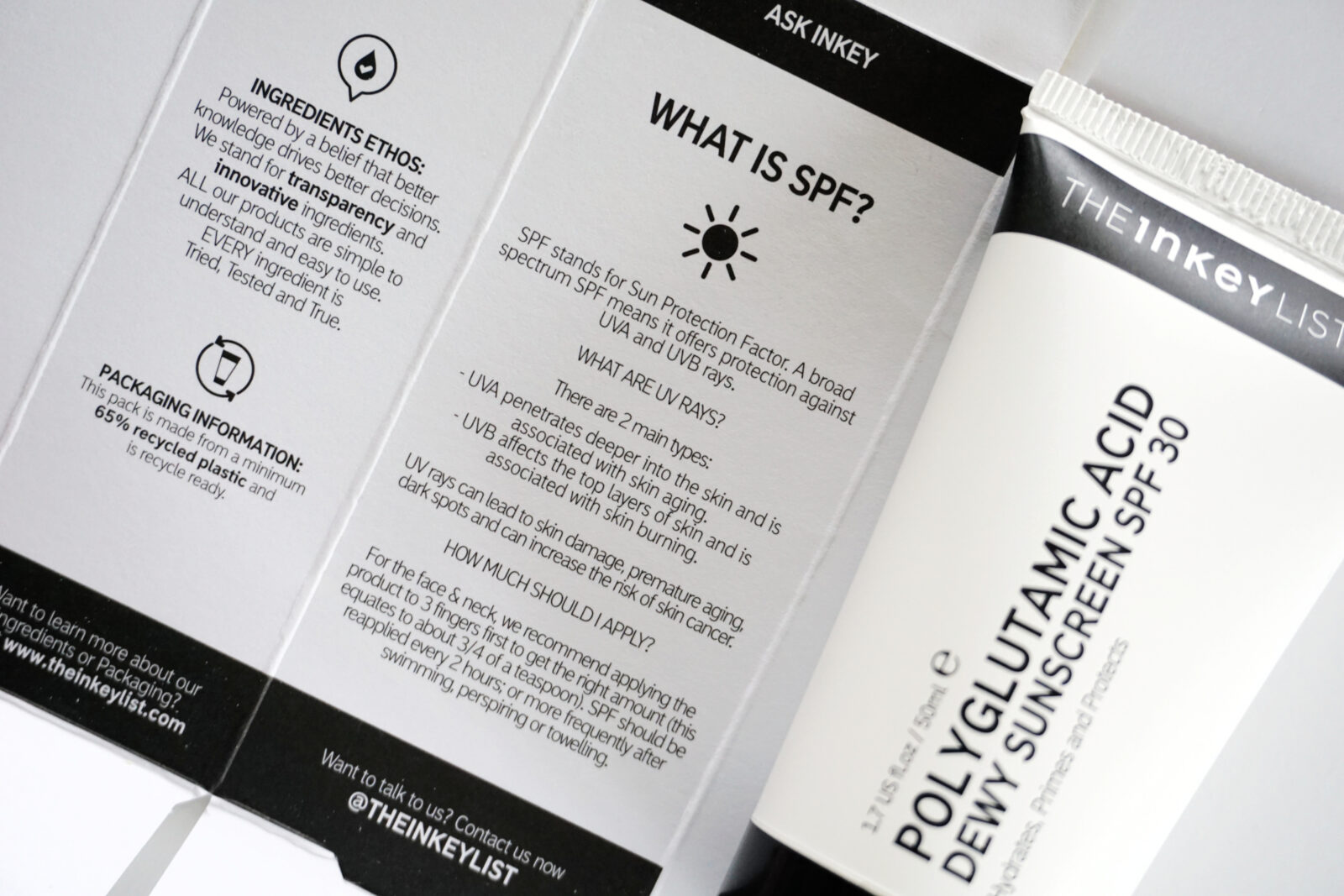 Application and overall user-experience 
Compared with other chemical sunscreens I have in rotation, The texture of The Inkey List formula is significantly more creamy. It feels like a moisturizing primer with SPF in a way. A very good way. It delivers both hydration and moisture, providing comfortable balance while also protecting my skin against UV damage. It's a great multi-tasker. In the summer, this will be enough on its own after a morning cleanse for me. 
I find that the Polyglutamic Acid SPF 30 goes on a tad rich. It actually made me nervous for a split second. Thankfully, in just under a minute, it disappeared into the skin. I know because I timed it for my IG reel. There is a faint smell of sunscreen but it doesn't linger. As far as the dewy finish, it's not too aggressive, which is another perk on my short list of preferences. It looks more satiny to dewy on my combination skin. Of course, all can change in the summer humidity so ask me again in June. Those who wear makeup will find this makes for a great base.
Final Thoughts
I apply two finger lengths of SPF to my face. I know, I know, everyone seems to need three. Personally speaking, I do not reapply my sunscreen every two hours. For me, that just wouldn't be feasible. How do others find the time? A generous squeeze covers my face without pilling and gives me a subtle, healthy looking glow. And, you can't beat the $15 price tag.
Available now at theinkeylist.com and sephora.com.