It may come as a surprise to some but a pair of nail clippers for proper foot care does not make. As someone who takes pride in his feet always looking well groomed, I thought I'd share a few products that help me achieve just that. Since I'm currently rotating multiple pairs of adorable Havaianas (the sales during the lockdown were just too good!), the steps and product recommendations below will help you… put your best foot forward? Foot care does not have to be time-consuming nor require the level commitment necessary for general skincare. What I'm trying to say is it's ok to skip a day or two.
Baby Foot Original Peel
Nothing impresses (and disturbs) more than this Japanese foot care masterpiece. Twice a year, I reset my foot grooming routine with an application of this exfoliating solution, which takes an hour to work, and ten days to produce results. Put on a pair of plastic booties filled with the Baby Foot gel (available in unscented, lavender or mint — mint is marketed as For Men, by the way), give it about an hour and wash your feet with soap and water. In a week, your skin will start peeling like you've never seen. After three days of 'shedding,' your feet will look ten years younger and you'll be flip flops ready. Full disclosure: if you're dealing with stubborn calluses, you will need to file them down. Baby Foot Original Peel won't remove them. $25 (1 treatment) on bluemercury.com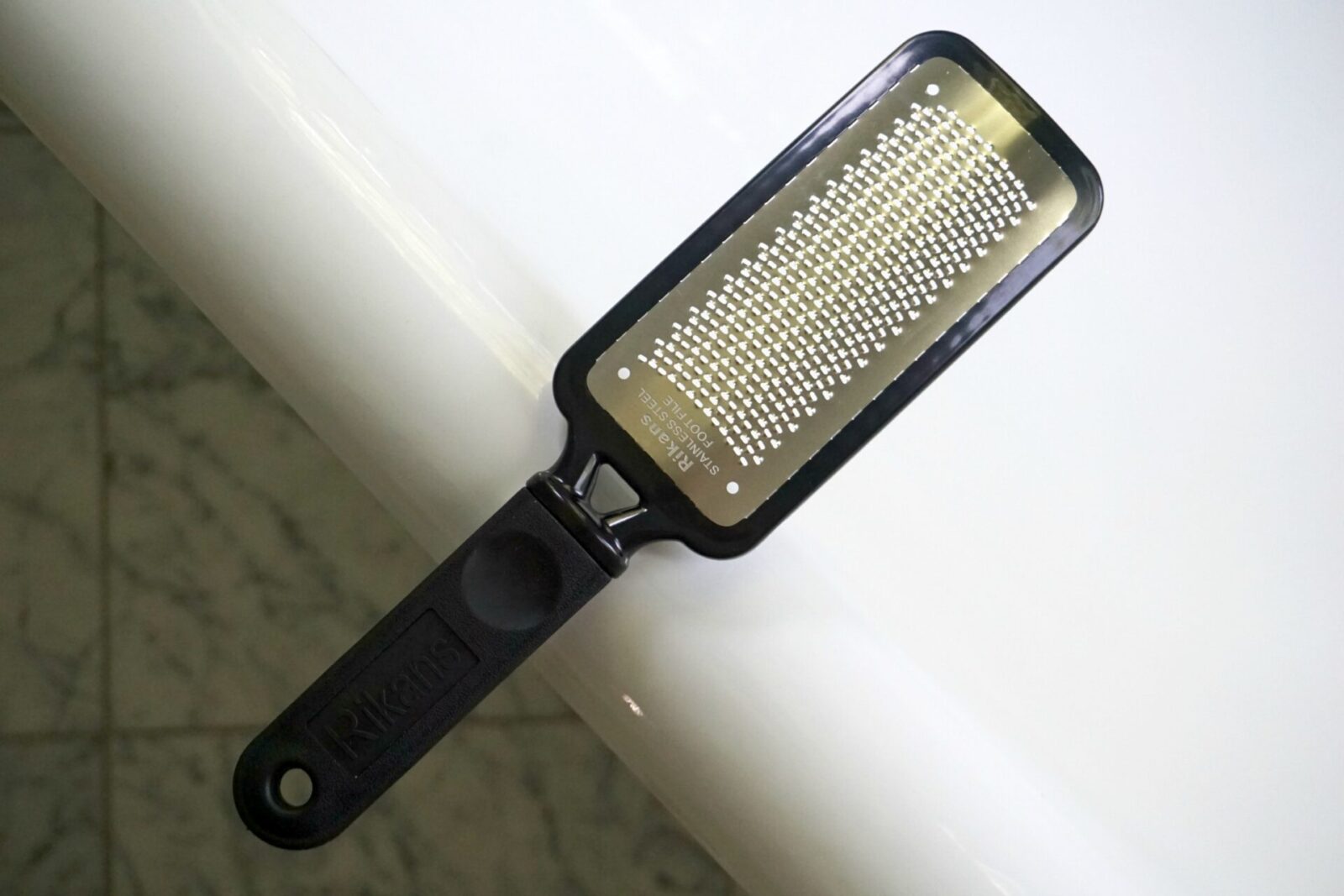 Foot File (but a good one)
Tough heels sure appear manly but there isn't anything sexy about them. In order to soften and buff away the rough skin, you may need to go a step above a topical cream. For years, I've tried a variety of pumice stones from drugstores worldwide and achieved disappointing results. However, my recent purchase of this Foot File And Callus Remover on Amazon has completely elevated my foot care routine. The microplane like surface is made of surgical grade stainless steel and works on wet or dry skin to file rough skin to glass-like smoothness. I found it worked better on wet skin and I now use it every few weeks after a relaxing bath. In less than a minute, my heels are remarkably soft and ready for an application of foot cream. $11.95 on amazon.com
Moisturizing Foot Cream
There is no shame in my drugstore foot cream game. Walk into Target or Walgreens and pick up a tube of Gold Bond or Eucerin. Your feet don't differentiate between them nor a tube purchased at a department store. (The latter probably smells great but does not moisturize as well). I zoom in on ingredients like Glycerin, Urea, and Petrolatum because they deliver intense moisture and soften dry, rough skin. If you can find one with a touch of skin resurfacing acids, even better. Without getting too OCD, I keep both moisturizing and exfoliating foot creams on hand and alternate the two.
Exfoliating Foot Cream
To maintain the smoothness during the time between using a foot file, I reach for an exfoliating foot cream twice per week. For years, I stocked up on philosophy's soul owner because it was the absolute best. However, since the brand phased it out, it's been hit or miss finding a replacement. Until last year, that is, when I discovered ISDIN Uradin Podos Gel Oil at a pharmacy in Europe. Luckily, it's also available Stateside! The lightweight formula contains 10% Urea, Hyaluronic Acid, Shea Butter, Vitamin B5, and a healthy dose of Lactic Acid to address and correct dry, scaly skin. It's also completely non-greasy and absorbs like a dream. The only drawback is the price, but I do find the results totally splurge worthy. $33 on amazon.com
Foot Masks
Truthfully, foot masks are not a frequent step in my pedi-care. However, when you've been slacking on your cream applications, it's good to have a couple of these on hand for an emergency. Say you're invited to someone's socially distant Patio Happy Hour (lawn things are big in the country) and you know your feet aren't quite sandal ready. You could wear espadrilles. But would it be more comfortable to show off your twinkle toes after a quick 15-20 minute treatment? There are quite a few options available– from drugstore through K-beauty to Nordstrom — and they all work the same. They deliver an abundance of skin conditioning moisture to instantly improve the appearance of dry skin. I absolutely love the Sephora version ($5), which hasn't been in stock in forever. A good widely-available and affordable alternative is from Aveeno ($4).
Things I no longer fall for:
foot scrubs (Get yourself a Neutrogena Deep Clean Scrub and use it on your feet if you're so inclined.)
overnight foot softening socks (I used to spend $50 on a pair of these at bliss spa 20 years ago and I still wonder how I didn't kill myself walking from the bed to the bathroom in the middle of the night — they're lined with the most slippery gel coating; also a tub of Vaseline and a pair of cotton socks will do the trick without being hazardous to your health)
menthol laced tingling foot lotions (Sadly, I find this category more drying than moisturizing.)