Why is it that summer is always so much better for my skin? I can count on the balance of the sun and the use of cooler water in the shower to keep my complexion fresh and break out free. And while I've been blessed to breeze through my teens and twenties sans major acne related trauma, it is the unexpected zit that pisses me off more than anything at thirty six.
It's almost Halloween and it may even snow this week. Scorching hot showers and freezing temperatures outside have not been kind to my skin. And to make life more interesting, my jawline (which I wish were pronounced by certain bone structure) has become a breeding ground for stubborn zits of late.
This month's Vogue (October, US edition) has a great article on treating breakouts, which inspired me to assess my massive product stash and to focus on the prevention and correction of these unanticipated skin fiascos. The following brief assortment has been proving extremely helpful during this trying season. One at a time, two at most. The struggle is real.
NIOD Sanskrit Saponins
This intense facial cleanser is my every-other-day treat to ensure no surface build up triggers acne causing congestion. Seriously impressive, the botanical medley is fueled by a raw and unrefined extract from a tree also known as Soapberry. It absorbs dirt and refines the pores. The plant driven blend is pH balanced and won't dry out your skin. Instead, it will purify it without stripping away its protective barrier. It is not a makeup remover, so use it after an oil or balm formula if you practice double cleansing. Apply the mousse like paste to damp skin and enjoy the exotic herbal aroma. It took me awhile to acclimate to tbh but now I fully embrace it. $28 (90ml) or $50 (180ml) at niod.com
Kiehl's Breakout Control
Brand new from Kiehl's, this Dermatologist Solutions™ duo consists of the Acne Treatment Facial Lotion ($48 – 2 oz.) and Targeted Acne Spot Treatment ($28 – .68 oz.). If your skin is on the oilier side, is looking dull or has become rough, the Facial Lotion is a great everyday moisturizer that can come to the rescue. Fast absorbing and lightweight, it gently exfoliates deep within the pores with 1.5% Salicylic Acid as it soothes with Aloe Vera and anti-aging Vitamin B3. The Spot Treatment works slightly more aggressively on an as needed basis and features 10% Sulfur, Glycolic Acid and Niacinamide. I can't get it to look like it's not there, so I only wear it at bedtime. Available at Kiehls.com.
GLYTONE
If you have sensitive skin that becomes easily irritated by any acne specific solution try the GLYTONE Acne 3P Treatment Gel. All around superb, the hydro-gel texture is loaded with 5% Benzoyl Peroxide, leaves a matte finish and works like a dream on blackheads or cysts that are otherwise impossible to shrink. Consistency is crucial when it comes to pore maintenance, which is why I strongly suggest a weekly application of the new Rejuvenating Mask (formerly known as Deep Cleansing Masque, which, as pictured, I am still using). The combination of Kaolin, Collagen, Vitamin C, Glycolic and Lactic Acids leaves the skin refreshed, visibly brighter and more radiant. One of the most trusted brands among dermatologists, GLYTONE offers some of the best formulas for problem skin. glytone-usa.com or Dermstore.com – Gel ($31 – 2 oz.) and Mask $39 (3 oz.)
Peter Thomas Roth #AcneBlues
The freshly re-branded line up of zit banishing inventions is now color coded with a trendy shade of cornflower blue. Truth is, the man behind my favorite masks also creates some of the best AHA/BHA blends that address breakout prone skin. The Max Complexion Correction Pads ($40 – 60ct) are a must have if you struggle with uneven tone or with frustrating blackheads. Saturated to perfection, each pad delivers a potent dose of Salicylic (2%) and Glycolic (10%) Acids, Aloe Vera, Witch Hazel and Chamomile Extracts with an exhilarating peach scent. I recommend starting off once per day and slot it in between your cleanser and moisturizer.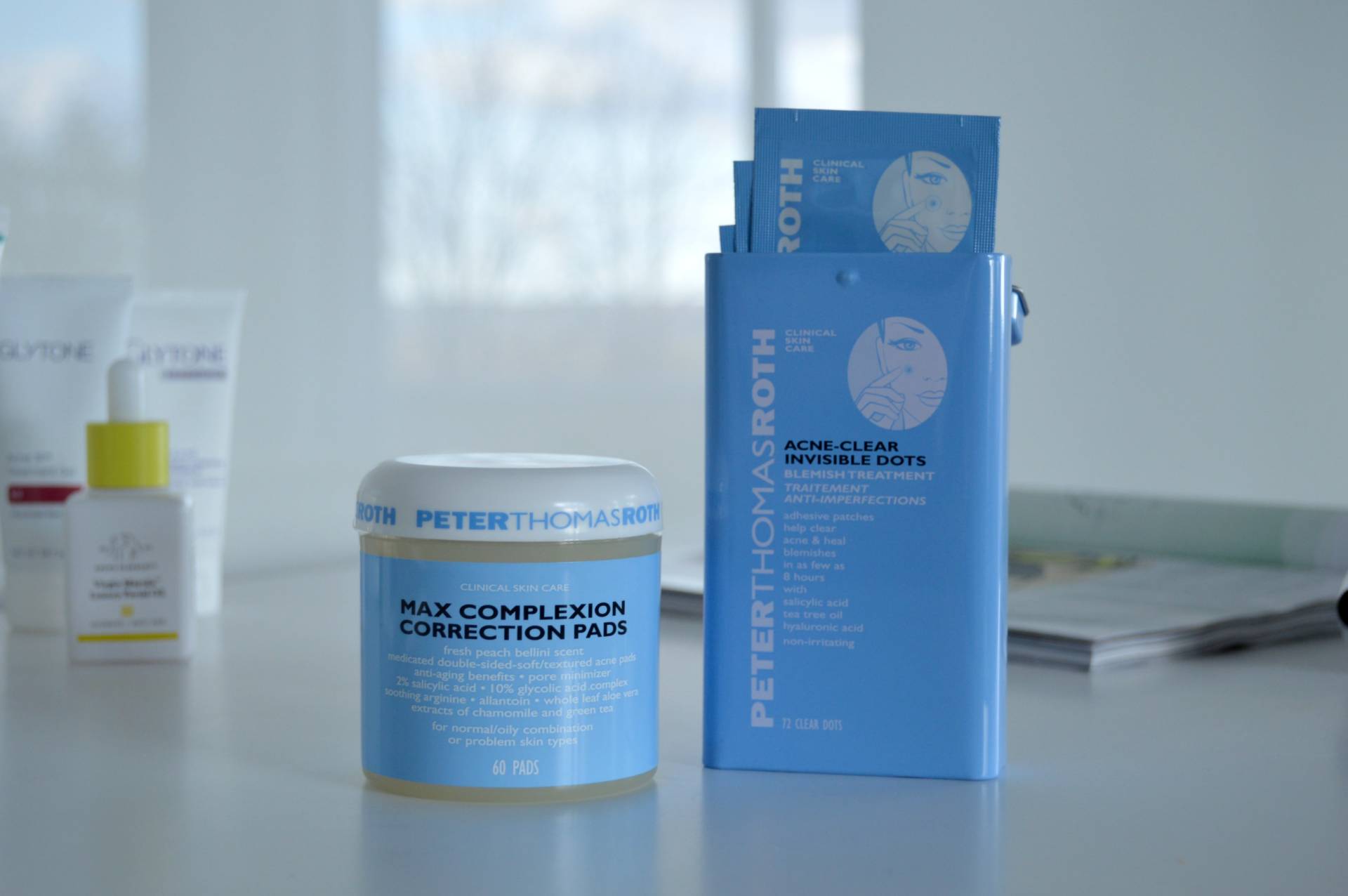 The Acne-Clear Invisible Dots ($30 – 72ct) are another genius solution necessary for your skincare arsenal. These transparent stickers are infused with Salicylic Acid (.5%), Tea Tree Oil and Hyaluronic Acid for a top secret mission anytime, anywhere. Borderline undetectable upon application, the dots (which come in two sizes) fight the peskiest zits in just eight hours. A travel godsend, they rinse off easily with plain water. Explore the range at peterthomasroth.com or sephora.com.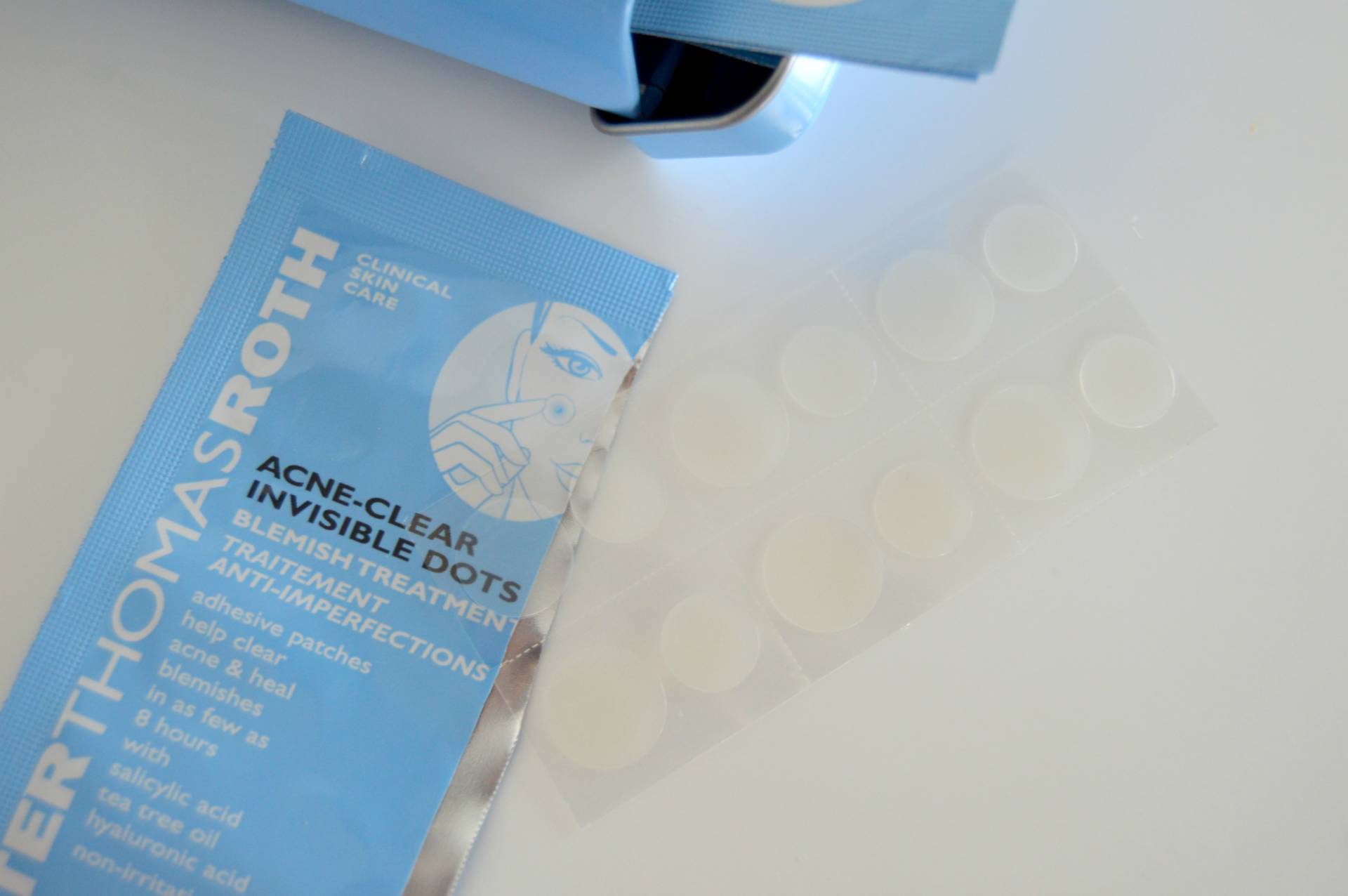 Drunk Elephant Virgin Marula™ Luxury Facial Oil
There are two breakout scenarios that require treatment with an oil: those that you catch at the very beginning, when you still have the patience and best intentions; or those you're trying to minimize after getting carried away with your fingers requiring you to minimize the damage. A single note perfection, the Drunk Elephant Virgin Marula™ Luxury Facial Oil is 100% unrefined and just as elegant. Rich in antioxidants and essential fatty acids, this deeply hydrating tree nut extract has tremendous anti-microbial properties, which makes it safe for treating breakouts. Worn over any of my pimple busting acid compounds, it protects, nourishes and prevents irritation and dryness. drunkelephant.com or sephora.com ($72 – 30ml)
What are your favorite emergency or staple breakout weapons?
*press samples